Find Belfast airport parking at a great price today
If you're looking for more info on Belfast airport parking, then you're in the right place. Our tips could help save time, stress, and hopefully money.
Key points
You can pre-book a space in the airport car parks for both City and International Airports
Both airports have on-site car parks, but the International Airport also has an off-site car park with a shuttle bus to and from
Public transport may be a cheaper way of getting to the airport
It's your worst holiday nightmare: there was a traffic jam on the motorway, the kids have been travel-sick and now, with half an hour to spare before boarding, you're trawling through the airport car park desperately trying to find a space.  
To help avoid this terrifying scenario, you can book an airport parking space in advance and save time when you arrive. 
Belfast International Airport parking 
Although the prices are subject to change, you can reserve a parking space at any one of the three on-site car parks quite easily by booking online. But, with a potential 8,000 spaces to choose from, and the option to pay on arrival, you may not need to. 
Closest to the main terminal, the main car park has plenty of spaces and is mainly priced to suit those taking business trips or a short break. 
The long stay car park is slightly further away but offers a discount on places booked online over those purchased on the day. Prices are always subject to change, so it's best to look online or check the turn-up gate prices on arrival.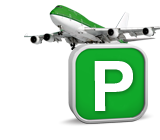 The short stay car park is most ideally priced for those picking up and dropping off and is well-situated for blue-badge holders.  
The off-site car park is called the Park and Fly car park, suitable for long or short stays, and offers a free shuttle bus to and from the terminal.  
Belfast City Airport parking 
Belfast City Airport is a smaller affair than the International Airport, but it's got three car parks nonetheless. 
The fast track car park is closest but is likely to cost the most per day. 
The long stay car park is most likely to be the cheapest to park in.
Your final choice is the short stay car park.  
Fortunately, all three are on-site car parks, so there is no need to worry about a transfer or an airport shuffle.  
Alternative transport 
There are other methods of getting to the airport, including several bus routes, or by taxi.  
Depending on how long you intend to leave your car at the airport, these may be cheaper than using an airport parking space.  
However, you cannot always guarantee the availability of public transport, which might put a small crimp in your travel plans. 
By Nick Dunn