Wherever you're flying to, start your trip right with our guide to Bristol airport parking.
Looking for info on Bristol airport parking? Start your trip saving time, money, and the stress with the GoCompare guide!
Key points
Pre-book your Bristol airport parking - it's a lot cheaper than paying on the day
There is a small charge to pick-up and drop passengers off at Bristol Airport
On-site parking is usually more expensive than off-site
Head eight miles south-west out of Bristol and there's Bristol Airport. The crown jewel of aerodromes in Somerset, as no-one calls it. 
And before you start tweeting us, we know Bristol isn't in Somerset. But the airport is… we're pretty good at Gio-graphy. 
OK, so this is a Bristol airport parking guide, so let's start with the hot car park chat.  
On-site parking at Bristol Airport  
You've got the choice of four (and soon to be five) on-site car parks at Bristol Airport. 
Silver Zone parking at Bristol Airport 
According to The Simpsons, the Olympics is about giving out medals of beautiful gold, so-so silver and shameful bronze. But when it comes to parking at Bristol Airport, there's nothing so-so about silver.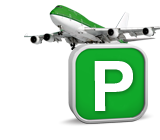 The Silver Zone is the most popular car park at Bristol Airport. Probably because it is the cheapest Bristol airport parking on-site. Minimum stay is two days and it's a five minute courtesy bus to departures. 
Silver Zone car parking is signposted from the A38 as you approach Bristol Airport.  
Bristol Airport long stay parking 
It can be as little as a three minute amble to the terminal from Bristol Airport's long stay car park. Otherwise hop on the dedicated 24-hour courtesy bus. 
Bristol Airport Premier car park 
How close do you want to park to the airport terminal? If the answer is 150 metres, then boy are you in luck. Premier Parking is the car park for you. Aimed at Business travellers, it can be used for stays of one to 15 days. 
Bristol Airport Meet and Greet Parking 
150 metres too far? Then you need the meet and greet parking service at Bristol Airport. Sometimes called valet parking, you don't even have to find a parking spot. Someone will meet you next to the terminal and park your car for you. This convenience does tend to come with a cost mind. 
Did you know...?
Ontario Teachers' Pension Plan owns Bristol Airport
Also be aware that your car insurance may not extend to cover your car being driven by a valet. Check before booking meet and greet parking. 
Multi-storey parking 
Due to open in June 2018. Expect covered spaces and a three minute stroll to the airport terminal. 
You can book on-site parking up to three hours before you arrive. All on-site parking in Bristol Airport has the Park Mark award.
Off-site car parking - Bristol Airport 
Bristol is the busiest airport in the south-west. As such, there's plenty of parking to be had outside the airport. Shop around and compare prices to find the best deal for you.  
Before you book though, look at location, travel time to airport, and if there's a shuttle bus. Free transport to the airport is pretty standard now but is best to check. As is the frequency they run and when the first and last ones are if you're travelling early or late.   
One final thing to check is if the car park is a member of the Park Mark Scheme, a police-backed award for secure parking. Off-site is usually cheaper than on-site parking. It might be advertised as park and ride. 
Parking and accommodation at Bristol Airport 
A lot of hotels near airports now offer what's called parking packages. This is where you stay the night before your flight and leave the car in their car park for the length of your trip. 
This can be a cost-effective way of sorting airport parking, especially if you're travelling a long way to Bristol Airport. 
A couple of hotels offer this service, and have shuttle buses to take you to the terminal too. 
Pick-up and drop-off charges at Bristol Airport 
If you're grabbing a lift to the airport or doing someone a favour and taking them you've got a few options. A few options that you'll have to pay for. Express Drop Off is exactly that. Designed for jumping out right next to the terminal, you get 10 minutes for this manoeuvre and it'll cost you £1. 
If you need longer, then you might want to go for the Short Stay and Pick Up Car Park. There you get 20 minutes for £1. Prices were correct when we checked in April 2018. 
How to find cheap parking at Bristol Airport 
Here's a couple of things to take note of… 
Short-term and premium parking is aimed at business users – but prices usually come down on weekends when there's fewer business travellers 
Collate all your details on your flights and car - you'll need these when booking 
Airport parking can go up during the summer holidays and at Christmas 

The official airport parking site is not always the cheapest 
Keep an eye out for promo codes and discount vouchers 
Off-site parking tends to be cheaper that on-site 
Shop around and compare prices  
Wherever you choose to park, always factor in transfer and parking times. 
By Sam Easterbrook