Don't chance your arm with parking at Dublin Airport
Looking for inside tips on Dublin airport parking? Save yourself the stress, as well as some time and money, with the GoCompare guide!
Key points
You can pre-book your parking at or near Dublin Airport – it's often a lot cheaper than paying on the day
Dublin Airport has seven on-site car parks - four short-term and three long-term
There's no charge to drop passengers off at the airport
Haven't booked your car parking yet at Dublin Airport? Don't just sham-rock up and pay through the nose. Pre-book now to save some euros. Here's our guide to what's on offer when it comes to Dublin airport parking... 
On-site parking at Dublin Airport 
You can find a whopping seven different car parks at Dublin Airport. Pick the best for you based on your terminal, how long you're away, and how much you want to pay. 
Short-term parking - Dublin Airport 
There's four short-term car parks for the two terminals at Dublin Airport. 
Short-term car park A is closest to both terminals at about a two-minute walk. Designed for a quick arrival and getaway, short-term parking is ideal for business travellers.  
Dublin Airport long-term parking 
Yes, your mental arithmetic was correct... Dublin Airport has three long-term car parks on-site that serve both terminals. Red is closest, then green and finally blue. We think they missed a trick by not using green, white and orange, but there we go.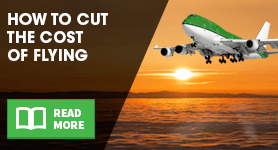 Anyway, a free 24-hour bus connects these long-term car parks with Dublin Airport terminals 1 and 2. Blue is the cheapest on-site car park at Dublin Airport. 
You can drive up and pay on the day. Yet booking in advance guarantees you a space and can save you a lot of money. Booking online also means you can use the number plate recognition system to speed up entry.  
Leave yourself about 40 minutes before check-in to park up and make your way to the terminal.  
Go compare to see what's out there when it comes to car parking at Dublin Airport. You could save a euro or two. 
Off-site parking - Dublin Airport 
As the biggest airport in Ireland and with no rail link, a lot of people drive here. And that means there's plenty of options for parking off-site near Dublin Airport. 
You might hear it called park and ride, and it tends to be cheaper than using a car park in the airport. Yet the money you can save is balanced with the longer times it takes to reach the terminal. Think about the travel time and how often the shuttle bus runs to the airport. 
With plenty of car parks to choose from, shop around and compare prices to find a great deal.  
Dublin airport hotels with parking 
Got a bit of travelling to do before your reach Dublin Airport? Or maybe you've got a super-early flight to catch? Then you might want to travel up the day before and stay the night at a nearby hotel. And a lot these hotels now offer what's called parking packages. 
See also:
This means you can leave your car at the hotel while you jet off on your holiday. And it can be a cost-effective way to sort out your airport parking.  
So you might want to look at Clayton Hotel, Carlton Hotel and Radisson Blu. In May 2018, Premier Inn doesn't offer long-term parking. 
Still, you have lots of options for Dublin airport hotels with parking, so be sure to shop around.  
Dublin airport parking meet and greet  
There are valet parking services at Dublin Airport. If you want the ultimate in convenience, and are happy to pay for it, then pick Dublin airport meet-and-greet parking. 
Check that your car insurance covers your vehicle if other people drive it. It's likely your car will be parked off-site.
Drop-off charges at Dublin Airport 
Dublin Airport has set down areas for both terminals and they appear to be free. If you're picking someone up, then use one of the short-term car parks. In May 2018, it cost three euros for an hour's parking. 
Cheap Dublin Airport parking - how to find the best deal for you 
These are the essential tips on bringing down the cost of airport parking: 
Short-term parking and premium parking is marketed at business travellers - while it can be pricey during the week, you might find it drops on weekends 
Can you avoid peak travel times? Christmas and the summer holidays can mean higher airport parking fees 

Search around for discount vouchers and Dublin airport parking promo codes 
Happy to catch a bus? Off-site parking is usually a lot cheaper than on-site parking 
Try and pre-book your airport parking – on-the-day fees can be ridiculous  
And always compare to find the right deal for you 
By Sam Easterbrook