Find cheap airport parking at East Midlands Airport
Save yourself from a holiday nightmare by booking your airport parking ahead of time. We can help you compare prices to make sure you get the right space at the right price for you.
Key points
Parking prices vary depending on when you book relative to your flight time
There are four car park sites servicing the airport
Seven hotels service the airport, both on and off-site
Fans of motorsports and heavy metal come from all over the world to the East Midlands Airport. Castle Donington, home of the internationally renowned Download Festival, is very close by. As is Donington Park, which hosts circuits for the British Touring Car Championship and British Superbikes among others.  
But it's also an international airport, and those Midlanders who want to escape the hordes of heavy metal and motorsport fans need somewhere to leave their cars. Step in airport parking – and here's our guide to getting a good space. 
Pull up to East Midlands airport parking 
The following was all correct in May 2018. 
There are four types of car park for the East Midlands Airport: short, mid, long stay and the JetParks car parks. The latter is split across on-site locales, or the JetParks car parks. The two JetParks car parks are a 15-minute bus ride away from the airport, and there's a free bus transfer laid on. The minimum stay, however, is six days – so it may be worth looking to see if there are spaces closer to the terminals in the long or mid-stay car parks. 
See also:
The short-stay car park offers no minimum stay, while the mid stay requires a two-day minimum, and the long stay is four days. There's a free bus transfer for the long-stay car park users, but not for those in the mid or short stays.  
If you don't want the hassle of actually finding a space yourself (and frankly, we don't blame you), you can pay extra for the meet & greet service. This is located right in front of the terminal and, as its name suggests, you can drop your car off with a friendly chauffeur and they'll drive it to a space for you. On your return, they'll drive it to the terminal for you. 
East Midlands airport hotels 
Several hotels service the East Midlands Airport. They're mostly chains, like Novotel or Jurys Inn. But the Priest House Hotel is an independent operation four miles away. Further from the airport is the Best Western Nottingham Derby, at eight miles away. So a manageable distance.
Most of the hotels are on-site or very near the airport itself, and can offer airport shuttle services if needs be.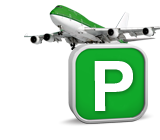 Cheap airport parking in East Midlands 
The price of a parking space at the airport will mainly depend on how far ahead you book, but the cheaper spaces are often to be found in the JetParks car parks. 
However, there are sometimes discount codes available from companies like MyVoucherCodes. These will only work for a certain period of time, so be sure to use them before they expire. 
Transport to East Midlands Airport  
If you don't want to drive to the airport, you can take the train to the airport directly from East Midlands Parkway station which operates the Railink service. If you live further out, you can get the train to Derby or Nottingham and then take the Skylink bus. 
That same bus is the main bus service to the airport for those who live nearby. It runs up to every 20 minutes during the day – and hourly at night – for 24 hours a day, seven days per week.
By Nick Dunn