Discover airport parking at Edinburgh Airport
Parking at an airport can be fraught with peril and eye-watering prices if you don't book ahead of time. So, we've put together a handy guide to comparing rates to help you out.
Key points
There are seven different car parks at Edinburgh Airport
They all boast Park Mark accreditation, and some offer flexible booking options
There are no hotels on-site that offer parking
Take care of the little things and the big things will take care of themselves, so they say. One little thing it's quite important to take care of is airport parking. 
Otherwise, you might find yourself trailing round a car park looking desperately for a space when you could be in the airport lounge enjoying a fortifying haggis and a quick dram before your flight… 
Park yourself – car parking at Edinburgh Airport 
The following features were correct in May 2018, and prices are ballpark figures. 
Edinburgh Airport offers seven car parks, each boasting a Park Mark accreditation.† This means all the car parks have met a high set of standards regarding personal and vehicular safety. Some of them offer a flexible booking option, allowing you to cancel your space after 14 days for a fee.  
If you don't want to walk too far to the check-in, you can park in the Terminal Surface car park. It's directly outside the terminal, so only the furthest spaces at the very far end of the car park will necessitate a lengthy walk. 
Although it's an uncovered car park, it's still a relatively safe place to leave your car thanks to its Park Mark. Elsewhere, you can use the mid or long-stay car parks depending on how long you need to leave your car in the airport. 
The long-stay car park also offers an express service. Also known as a valet service, this allows you to drive in the valet parking zone, hand over your keys, and have a valet find a parking space for you. They'll also take photos of your car when they take it over so that they can ensure it's returned to you in the same condition.  
Cheap parking at Edinburgh Airport 
So there's plenty to choose from in terms of parking at Edinburgh Airport. But how much will it cost you? Well, that mainly depends on how far ahead you book your parking space.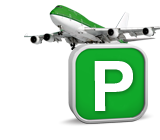 The privilege of parking right in front of the terminal may set you back as much as £60, but the long-stay express option, which comes with a complimentary bus transfer to the terminal, could be cheaper by up to £20 or more. It might even be cheaper than the Plane Parking budget car park!  
Every year, a huge influx of actors, comedians, musicians and other performing artists descend on Edinburgh during August to experience the Edinburgh Fringe. Normally, this leads to a huge increase in prices (and profits) for hotels and bars. Fortunately for those looking to flee this chaotic circus, the prices at Edinburgh Airport's car parks don't seem to be hugely affected. 
Edinburgh airport hotels with parking 
Although there are no hotels on-site at Edinburgh Airport, there are several nearby, all of which offer their own parking spaces. They all offer 'park and stay' packages, allowing you to stay overnight before your departure and then return to collect your car.  
By Nick Dunn