Compare airport parking prices at Glasgow Airport
You've arrived at Glasgow Airport with your car stuffed full of suitcases, hand luggage and the fam. Luckily you've read this guide, so your airport parking has been booked in advance. All you have to do now is find your parking space!
Key points
Glasgow Airport and Glasgow Prestwick Airport both have short and long-stay car parks, as well as a drop-off and pick-up zone
Alternatively, you could use a secure off-site car park or take advantage of an overnight accommodation and airport parking package
Pre-booking your Glasgow airport parking guarantees you a space and could be a lot cheaper than paying at the barrier
Knowing your car is parked somewhere secure while you're off on your hols gives you the peace of mind to be able to fully enjoy that banana boat ride in Lanzarote or those cocktails in Amsterdam.  
Let's check out some of your options for airport parking, and we'll even throw in a few tips to consider when booking your Glasgow airport parking.   
Glasgow airport car parking 
Glasgow Airport is the second busiest in Scotland, with 9.9 million passengers making use of its services in 2017.  
Some of the most popular routes to and from Glasgow include London airports, like Heathrow and Stansted; Dublin and Belfast; Amsterdam; Dubai; Bristol; Tenerife and Alicante.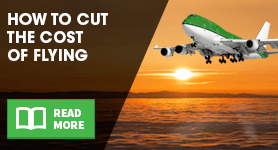 Glasgow Airport has short and long-stay car parks, drop-off areas and a valet and fast-track service.   
If you've pre-booked, Glasgow airport car parks use number plate recognition, which issues your parking ticket when you drive up to the entry barrier, so you don't have to faff about pressing buttons. 
Blue badge holders are also entitled to 30 minutes' free parking in any of Glasgow Airport's car parks.  
All of the following info was correct in May 2018. Obviously double-check before you book, as prices may change. 
Short stay 
Glasgow has two short-stay car parks, which are both open 24/7. Glasgow Airport's short-stay car park 1 is a quick walk away from the main terminal, and short-stay car park 2 is located right outside the terminal.  
There's disabled spaces in both short-stay car parks, and assistance is available for passengers with reduced mobility.  
For short-stay car park 1, the minimum stay is 60 minutes, which costs about £6. Prices in short-stay car park 2 begin at £3 for up to 20 minutes.  
Long stay 
Glasgow Airport's long-stay car park is also open 24/7 and regular shuttle buses run to get you to the airport in around five minutes.  
Glasgow's long-stay car park is the cheapest of all the official Glasgow airport car parks.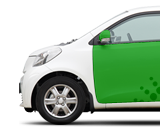 You can park in long stay for free for 30 minutes and then it's £27 for the full day.  
Pick-up and drop-off 
The pick-up and drop-off area is directly opposite the main terminal and is available for use 24 hours a day.  
Prices start at £2 for a 10-minute stay.  
Valet and fast track parking at Glasgow airport  
In Glasgow Airport's car park 2 there's a fast-track service, which has a terminal link bridge, taking you straight into security in the terminal building. Pretty handy if you have no baggage to check in!  
Prices start from around £31.50 for 24 hours' fast-track parking.  
Valet, or meet and greet, parking is a service that aims to make airport car parking easier. You arrive at the car park and a parking attendant will take your car to its parking space for you. All you have to do is head to the terminal, enjoy your holiday and your car will be ready for you to collect when you come back.  
Valet parking at Glasgow Airport is only available on Friday, Saturday and Sunday and you pay on the day, which could be quite pricey.  
Did you know...?
Glasgow Prestwick Airport is allegedly the only place that Elvis Presley ever set foot in the UK. There's even a plaque in the airport to honour it!
Glasgow Prestwick airport parking 
Glasgow Prestwick Airport is 32 miles from the centre of Glasgow, and is significantly less busy than Glasgow Airport. It's a main hub for Ryanair, and Barcelona, Malaga, Faro and Pisa are some of the airport's popular routes.
There's a pick-up and drop-off area to the right side of the main terminal building, which is free for up to five minutes.  
There are four car parks, with car park one and two being a two-minute walk away, and car parks three and four are about a five-minute walk away from the terminal. Assistance is available for those who need it in all car parks.  
Off-site secure car parks in Glasgow 
Sometimes, off-site car parks can be cheaper than parking in Glasgow Airports' own car parks.  
Independent car parks like Direct Parking, Skyport and Park 'N' Fly have CCTV cameras, security fencing and operate number plate recognition technology.  
Transfers to the airport are usually complimentary and take about five minutes from the car parks mentioned above.  
There are a few independent car parks around Glasgow Prestwick Airport, like Watsons Ayr car park, which could prove cheaper than parking in Prestwick airport.  
When comparing Glasgow airport parking, look out for facilities that have the Park Mark award.  
Glasgow airport hotels with parking 
Some hotels will offer parking and an overnight stay as part of a package. This can be convenient if you have a long ride to Glasgow airport or you have an early flight. 
See also:
Glasgow flights
Glasgow hotels
If this is the case, it might be better for you to stay overnight near the airport, rather than rush the commute on the day of your flight.  
The Premier Inn Glasgow Airport and the Holiday Inn Express are just two examples of hotels around Glasgow Airport that offer airport parking packages.  
For Glasgow Prestwick Airport, hotels like the Prestwick Old Course Hotel and Premier Inn offer airport parking.   
Glasgow airport parking tips 
Here are a few things to bear in mind when sorting out your airport parking: 
By pre-booking your parking at Glasgow airport, you're guaranteed a space and you could even save yourself a bit of money with online exclusive discounts!  
Look around on sites like MyVoucherCodes to see if there are any special offers on Glasgow airport parking.  
If you plan to use valet parking, make sure your car insurance will still cover you if there's a problem.  
It can be cost-effective to combine accommodation and parking, if you plan to stay near the airport before your flight.  
When booking your flights from Glasgow airport, try to avoid peak times, as your flights and airport parking will usually be more expensive.  
If your airport parking is expensive, consider getting a coach, train or taxi, or ask a friend or family member to do the lifts, pretty please. 
Our final words of wisdom are to remember to factor enough time to park into your travel times, and have all your vehicle details and flight information handy when booking your Glasgow airport parking.  
By Amy Smith