Parking your ride at Liverpool airport
Going off on your hols to sunnier climes? You'll need somewhere to park your car – drive this way to compare Liverpool airport parking.
Key points
Parking your car somewhere secure can give you peace of mind while you're away, and it doesn't have to cost the earth if you pre-book and compare prices
You don't have to park on site at Liverpool Airport, as there are plenty of companies that offer offsite secure car parks and complimentary transfers
Pre-booking your Liverpool airport parking guarantees you a parking space. Check the prices of meet-and-greet services or fast-track security parking to see if it's within budget
Wouldn't it be awful to come home and find your car had been broken into or, worse, stolen? Knowing your car is parked somewhere secure while you're off seeing the world lets you breathe a bit easier.  
This is where Liverpool airport parking can come in handy! Drive yourself to the airport and leave your car in a secure place while you're away, and it'll be waiting for you when you get back.  
While it's not quite the tail-wagging, ecstatic, jumping 'welcome home' you'd likely get from your pet pooch, we're pretty sure your car – if it was sentient – would rather be parked somewhere safe while you're away than left in the street.  
Liverpool airport parking 
Liverpool John Lennon Airport was officially opened in 1933 and can be found seven miles south-east of Liverpool city centre.  
It was the first UK airport to be named after an individual when it was given a facelift in 2001, and named as a tribute to The Beatles legend. The new terminal was opened by the Queen in 2002 – fancy! 
Liverpool airport has lots of parking options, so let's get started. Prices listed below are 'gate rates' or pay-on-the-day prices. Pre-booking your Liverpool airport parking could save you a hefty sum compared to paying on the day, so go compare! All information below was correct in June 2018.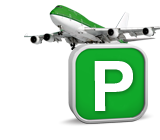 Long-stay parking 
If you're going on a magical mystery tour for more than a few days, Liverpool airport's long-stay car park is a four to five-minute walk from the terminal.  
It's £35 on the gate to park for one day, £90 for a week and after nine days (£100) it's an extra £10 every 24 hours.  
Short-stay parking 
Not going to be away for long? Liverpool Airport has a short-stay car park opposite the terminal, which is suitable for pick ups, drop offs, and parking for up to 24 hours.  
On-the-day-prices start at £6.50 for one hour, up to £40 for a whole day. Each 24 hours after will cost an extra £40. 
Fast-track parking at Liverpool Airport 
You can park in the closest car park to the terminal with fast-track parking. There's also a family fast-track parking option.  
With fast-track parking you get bigger parking spaces, two free fast-track security passes, and a private entrance and exit route away from the main airport traffic. Family fast track gets you this plus another two, free fast-track security passes for the kids (additional passes are £4 each).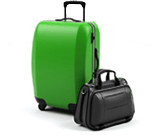 This type of airport parking is only available to pre-book, and with prices starting at around £62 for 24 hours and £100 for a week, it's probably only a good idea for longer stays.  
Offsite Liverpool airport parking 
While possibly not the most convenient option, you don't have to park in the actual airport. 
You can use an offsite secure car park, but you'd have to make your own way to the airport, which is usually provided by the offsite car park anyway.  
See also:
Companies that have off-site parking for Liverpool Airport are Imagine, APL Parking and Skypark.  
All of the above companies run regular airport transfers 24 hours a day and have the Park Mark award.  
The Park Mark award is given to car parks that are deemed secure and well maintained, with things like CCTV, regular security patrols and security fencing.  
Imagine and Skypark also offer a meet-and-greet service. This service means you'll be met at a designated place in Liverpool Airport by a company representative, who'll then park your car for you, and meet you again when you arrive back at Liverpool.  
Liverpool airport parking hotels 
Hotels like Hampton by Hilton Liverpool and the Premier Inn offer airport parking and hotel bundles, which can be useful if you have an early flight and don't want to drive.  
Wherever you park, if you pre-book your Liverpool airport parking you're guaranteed a space and you could save yourself a few quid too!  
Checking out discount sites could also prove helpful. Also it's not a bad idea to make sure your car insurance covers meet-and-greet drivers for damage. Their services may have exclusions for that kind of thing, so double-check before letting that baby drive your car.  
By Amy Smith