Compare parking at Luton Airport
In the top five of busiest airports within the UK, parking at Luton is in demand. Get the drop on other drivers by comparing cheap airport parking at Luton Airport here.
Key points
Booking ahead could save you a lot of money, and although you won't be allocated a specific space, you'll still be able to park at Luton Airport
Prices vary between the car parks, and on how far ahead you book your space
Staying in a hotel nearby can also help get you a parking space – and a good night's sleep before your flight!
Everything's packed for your sun-soaked getaway: sun cream, sunglasses, holiday reading, and the all-important bucket and spade. But alas! When you get to the airport, all the spaces are taken! If only you'd booked ahead. Well, we can make sure you get a parking space at the airport and save you the hassle.
Luton airport parking 
As the fifth-busiest airport in the UK in 2016, London Luton Airport sees a lot of traffic in the year. Plenty of passengers will catch a train or a bus to the airport, but just as many will drive in and park for the duration of their holiday. So, if you're planning to park up, it's a good idea to reserve a spot ahead of time. 
The following details and rough prices were correct in June 2018.
Cheap parking Luton Airport 
The price of a space at London Luton Airport mainly depends on when you want to use it. Prices are generally cheaper the further ahead you book. Each of the car parks will also offer a slightly different price. The long stay is most often the cheapest, while the multi-storey early bird is usually most expensive.  
Although you won't be allocated a particular spot in any of the car parks, you can at least book one. So, if you turn up and there's nowhere available, you can contact the help desk and they will try to find one somewhere else.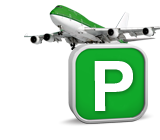 Luton Airport long-term parking 
There are two car parks that offer long-term parking. The long-stay park, which also offers a shuttle bus to the terminal every 10-12 minutes, and the multi-storey car park, which has a bridge link to the terminal that allows you to walk there from your car in about five minutes. The price could be as high as £180 if you book a week's stay in the long-stay car park at the last minute. 
Meet and greet 
The one option that does guarantee a space is the meet & greet service. This'll get you priority parking on level two of the multi-storey car park. 
Be warned: If you want to leave your car with the service, you could be looking at prices as high as £350 for a week's stay if you don't book far enough in advance. But, if you get in well ahead of time, a meet & greet stay could be as cheap as £90. There's a lesson here somewhere, but whatever it is, we think it's probably best if you book ahead.  
The multi-storey also allows you to pay-on-the-day for a stay of anywhere from 30 minutes up to 24 hours. Naturally, the price will increase in step with the length of stay.  
Short-term parking at Luton Airport 
Although Luton Airport doesn't offer an actual short-term car park per se, the mid-stay car park offers short stays between 15 minutes and one hour, and then a longer stay of 24 hours if you pay on the day. You can then book a stay for the duration of your holiday. The shuttle bus from the mid-stay car park takes about eight minutes to get to the terminal, so you should factor this in to your journey time planning. 
Luton airport hotels and parking 
There are several hotels near Luton Airport. A few of them, like the Holiday Inn Express, offer a shuttle service to the terminal. They offer parking services as well: the Hilton Garden Inn, for example, allows you to park in the hotel car park for the duration of your holiday. 
So, if you arrive late or need to depart very early, it may be worth getting forty winks at one of the hotels nearby. You may just get an excellent car park space added into the bargain. 
Top tips for cheap airport parking 
We recommend comparing the parking prices at Luton Airport and seeing which one would be most cost-effective for you. That way, you can get a space before you need it, and save some money that could be better spent on ice creams at the beach. 
By Nick Dunn