Compare airport parking at London Stansted
Flying out of London Stansted? Save time, hassle and money by pre-booking your space in the airport car park.
Key points
You could park in any of Stansted's several car parks without booking ahead, but this may make your stay expensive
Pre-booking guarantees you a space, and could be cheaper than paying on the day
You may be able to get a discount with a voucher website, or park in a nearby hotel car park
If you're driving to the airport, the last thing you want to do is scrabble around trying to find a parking space. Once you've found one, you could end up paying through the nose for keeping your car there while you jet off on holiday.
So, what's the solution? Well, that's where we come in. We can help you find a space, book it, and save money, time and hassle on airport parking at Stansted Airport (STN). 
The following details were correct in July 2018. 
Parking at Stansted Airport 
Stansted offers several different car parks. While you can try to park on the day of your flight, this may be a more expensive option than pre-paying for a space. Each car park is suited to different customers, and each one comes with its own pay-on-the-day rates. 
The short-stay car parks are ideal for those picking up or dropping off passengers, and the rates reflect this. An hour in the mid-stay car park is free at the time of writing, though this may be subject to change.
But if you're looking to park your car while you jet off for a week in the sun, you could be paying around £55 per day which could be as much as the holiday itself.  
The mid and long-stay car parks tend to be slightly cheaper in the off-season between October and April than they are between May and September. A 24-hour stay in either car park will cost upwards of £20, so you could end up paying over £140 if you leave your car for a week.  
But that's if you pay on the day.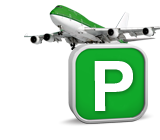 If you pre-book, it's likely that you'll get a cheaper fare, and you'll guarantee getting a space. 
The prices for a space vary across each car park. Booking well in advance will very likely ensure a cheaper fare.  
For example, a week's stay in the long-stay car park could be as little as £95. With a free transfer bus to the terminal every 15 minutes, this isn't to be sniffed at. You could have a valet take your car away and clean it, but this might cost around £130. But both of those prices are for next-day bookings.  
Booking further in advance, a long-stay space booked three months ahead of time could cost £55 for a week – giving you £40 extra to dine out on your hols. Slightly cheaper still is a space in the JetParks car park, adjoining the long stay. A week's stay booked three months in advance costs about £50.  
Stansted airport parking discount 
Occasionally, the airport itself might offer promotions on parking spaces. Alternatively, you could check out voucher websites like MyVoucherCodes (part of the GoCompare family), which may have an offer available.† 
Stansted airport hotels with parking 
Other than the Travelodge, the hotels operating near Stansted Airport all offer parking. 
Fortunately, they're also mostly happy to let you stay long term. The prices will differ from those charged at Stansted's actual airport car parks, and will vary between hotels. For example, at the Radisson Blu, connected directly to the airport, an eight-day parking package might be £90. If you want to stay overnight, it will cost even more – up to £160.  
The other hotels surrounding Stansted Airport all offer similar packages at similar rates, save for the Premier Inn. You can only park there on the night of your stay, as there's no long-stay parking available. 
Tips for cheap airport parking 
Beyond booking it far in advance, our advice would be to compare your options. We can help you out, looking at the parking options by price and convenience. Then all that's left for you to do is park up, check in, and jet off to your destination. Bon voyage! 
By Nick Dunn