The Barcelona transfer window is open!
With more than 44 million passengers passing through in 2016, Barcelona's El Prat international airport is second busiest airport in Spain behind Madrid-Barajas Airport.
Key points
If you have booked a package holiday using a travel agent, your holiday may well have airport transfers from Barcelona included within the overall holiday bundle
Booking transfers online in advance can save time, money and hassle when you arrive in Barcelona
Taxi journeys will likely take just as long the Express bus but warrant a far higher price
As the only airport within Barcelona, the Catalonian travel centre will likely be the airport of choice for most tourists travelling to the city.  
However, once you step off the plane and grab your bags, the next item on the agenda is getting to your hotel. 
Sadly, this task can be a lot trickier than you would expect, particularly if you haven't done your homework beforehand. Luckily, school's out at GoCo High and we've done the homework for you! 
So put down that stress ball and read on for everything you need to know about Barcelona airport hotel transfers. 
How to save money on Barcelona airport transfers 
When booking a holiday to Barcelona, part of the convenience of booking a package holiday is that they commonly include airport transfers within the overall price of the bundle. 
However, this isn't always the case, so be sure to check that transfers are covered when you make your package booking.  
Booking flights and accommodation outside of a package deal will also likely necessitate organising your own airport transfers.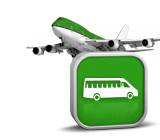 Booking ahead of time before you get there will likely gift you the holy trinity of savings, saving you time, money and stress.  
There are a variety of options available and the most offer the ability to book online, speeding up the whole process once you land on Barcelona soil. 
What kind of Barcelona transfers are available? 
As luck would have it, El Prat is located south-west of central Barcelona, approximately eight miles away from the city centre. The close proximity makes for handy travel convenience and getting to the city centre from Barcelona Airport is fairly straightforward. 
Better still, this can also translate into cheap transfers from Barcelona Airport. When it comes down to the nitty gritty, there are five primary options when it comes to transfers from Barcelona Airport to city centre locations. 
Private transfer 
Private transfer can be acquired through a number of companies, with transfer cost to the city centre typically falling around the €40 to €55 mark, depending on the number of people. 
Upon arrival, passengers are greeted by a driver/rep carrying a sign with their name. Once the bags are hauled into the vehicle and your fully greeted and seated, away you'll go! 
However, it's worth noting that there are additional charges, including added fees for waiting times. 
Minibus shuttle 
Minibus transfers are typically available as a non-private travel service, meaning that you will have to share the bus with other passengers you likely won't know. However, it is considerably cheaper than private transfer.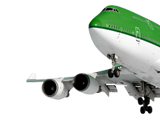 Spaces can usually be booked up ahead of time, allowing for a pain-free service once you arrive. In April, 2018, the shuttle itself had an allocated meeting point at Terminal 2B, with shuttles running from 08:00 to 01:00 to the city and 04:00 to 21:00 from the city to the airport. 
Bus transfer 
For the braver traveller looking to soak up the local flavour immediately upon arrival, there are a variety of bus services that will get you from A to B. Best of all, most tickets fell within single digits in April, 2018, for as little as €2 to €3 for one-way, making them one of the cheapest Barcelona Airport transfer around. 
The Express bus (aka Aerobus) offers a spacious solution that runs on a frequent basis throughout the day, while the standard Barcelona TMB is less costly and will likely save you money if you are looking to keep travel expenses to a minimum.  
In addition to that, there are also night buses, should you require public transport after hours. 
Train 
If you're super confident, the train runs twice an hour from Terminal 2B to the city centre, stopping at three main stations along the way (Estacio Sants, Passeig de Gràcia and El Clot). This can be particularly useful if your hotel happens to be near a stop. 
In April, 2018, trains ran from Barcelona Airport from 05:42 to 23:38 and tickets are available at ticket machines on-site.  
However, be careful when taking the train back to the airport. The R2 Nord train will return you back to Terminal 2B; however, the standard R2 train will not. 
It's also worth noting that this route isn't advisable for people with an abundance of luggage, due to the crowded carriages and lack of allocated luggage room. Similarly, Barcelona has a bad reputation for pickpockets and manning several pieces of luggage on public transport, under those circumstances, is a recipe for disaster. 
Taxi 
One of the most popular modes of transport for your average tourist is, of course, the humble taxi cab. According to the Barcelona Tourist Guide, in April, 2018, a typical taxi transfer from the airport to the city centre of Barcelona will cost in the region of €30 to €35. 
However, there is also a minimum fee of €20, even if your hotel is located just minutes down the road, so be forewarned. It's also well worth remembering that travelling under certain circumstance – e.g. , weekends, late at night, etc. - will warrant a surcharge, details of which should be displayed within the vehicle. 
What's more, even though it typically costs more than the Express bus, it still takes just as long. However, it could still prove worthwhile if you're in a group. Taxis are located outside Terminal 1 and 2, identified by various taxi rank signs. 
By Martyn Grant