Find cheap Dundee airport transfers with GoCompare
Struggling to find airport transfers for Dundee Airport? GoCompare today!
Key points
Planning your journeys into and out of Dundee in advance could save you time and money when you land
Taxi points are clearly marked and located outside the terminal entrance point
Car rental at Dundee Airport is available from Arnold Clark and Europcar
Scotland's fourth-largest city, Dundee boasts two universities, two pro football teams and two multiplex cinemas. It was also named the very first UNESCO City of Design for its varied contributions to the fields of medical research, comics and video games. 
Perhaps most interesting of all, Dundee was even named the 'Coolest Little City in Britain' by GQ in 2015 and was even ranked #5 on The Wall Street Journal's list of 'Worldwide Hot Destinations' for 2018. Not a bad list of accolades to hear for anyone that's Dundee bound! 
But enough of the boring stuff, let's get to what we all came to see – the enthralling world of airport transfers! 
About Dundee Airport (DND)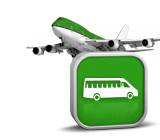 Dundee Airport is a modestly sized airport serving the city of Dundee. Predominantly providing flights to and from London Stansted, in addition to seasonal flights to Jersey, Dundee has seen a steady decline in popularity in recent years. 
Nevertheless, for those visiting or living in Dundee, Dundee Airport is a good facility to have to hand... even if the airport transfer options are slim pickings. 
What kind of Dundee transfers are available? 
As a relatively small airport, the transfer options at Dundee Airport are also relatively limited. By limited, we mean that there's a strong reliance on taxi travel, and virtually all other modes of transport still require some form of taxi journey beforehand. 
Dundee railway station is roughly 2.5 miles away from the airport, which is actually half a mile further away than the city centre itself and translates to approximately 10 minutes in a taxi. Similarly, a short, ten-minute taxi journey will also take you to Dundee bus station and both provide links with other major nationwide locations. 
See also:
Flights to Scotland
Holidays to Scotland
For all other locations in the locale, taxi is the most viable alternative, unless you don't mind a lengthy stroll with your luggage. Luckily, Dundee Airport is situated just five minutes' drive from the city centre via the A85 ring road.  
While it may not be ideal for public transport, Dundee Airport is well located for those visiting loved ones at University of Dundee. Meanwhile, it's also the closest airport to three of the finest golf courses in Scotland – St Andrews, Gleneagles and Carnoustie – making it a handy destination for golf lovers. 
Taxi transfers are easily located outside the airport, with pick-up and drop-off points marked next to the terminal entrance. Taxis are available on-site... However, the official Dundee Airport website advises advanced booking to avoid disappointment.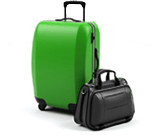 Outside of public transport, there's always the option to hire a car yourself. There are currently two car hire companies in operation at Dundee Airport, namely Arnold Clark and Europcar. The former operates a meet-and-greet service, while the latter has an info desk on-site within the terminal building. 
How can I get cheap Dundee airport transfers? 
Booking up in advance is a great way to save both time and money when you arrive at your destination. Whether you're in need of train or bus tickets, a taxi reservation or car rental, getting ahead of the curve is an advisable option and one that could save you a lot of hassle when you leave the baggage claim. 
If you're planning on flying to Dundee, be sure to stop by GoCompare before you part with your hard-earned cash. In addition to airport transfers, we can also help you compare prices of hire cars too, allowing you to make an informed decision that suits your trip and your budget. 
By Martyn Grant