Find cheap transfers from Edinburgh Airport
Hop off the plane and into a waiting taxi, or even bag a seat on a coach! We've put together a handy guide to the airport transfers you could get from Edinburgh Airport.
Key points
There are several different ways to get an airport transfer into Edinburgh itself
You can take the train out of Edinburgh to places like Glasgow, Fife and Dundee
If you're a rugby fan, you can get a tram straight from the airport to Murrayfield Stadium
Getting the plane to Edinburgh is the easy part. But when it's Fringe season, or Hogmanay, and the streets are crowded with performers and partygoers, it can feel like there's no other way but through. 
But there may be another way to get you to your hotel. We can help you get the right airport transfer from A to B without the hassle of pushing through the crowds.  
Transfers from Edinburgh Airport 
So you've landed at Edinburgh. Your hotel room is booked and you know there's a fresh plate of haggis, neeps 'n' tatties with your name on it. But how to get to it before it gets cold?  
Airport transfers 
There are several companies operating private airport transfers out of Edinburgh Airport, and they're best booked ahead of time to help save you time and money. You can get a private car or a coach, which will take you where you need to go. 
Taxi!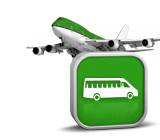 Robert de Niro may not be your driver (fortunately), but you could get a taxi for the 25-minute journey from the airport into the city. You can either hire a private cab, which'll need to be done at the office in the multi-storey car park, or you can wing it and hail one as you exit the airport.  
This would be a useful option if you have a lot of luggage, or if you and your partner or family want to get directly to your hotel and the lovely dinner that awaits you. 
If you're treating yourself to a luxury holiday, you could always push the boat out and plump for the Executive Carriages chauffeur service. 
Get bus-y with it 
If you haven't much luggage, or if there's a large group travelling all together, you could go for a bus instead. Edinburgh Airport affords you the option of hiring a private minibus for you and a collection of friends. This might be more expensive than a large taxi, however – and one of you may well have to drive the minibus. 
The public buses may well be cheaper than getting a taxi, especially if you haven't much luggage and want to explore a bit of the city before checking into your hotel. 
See also:
Tram-ping all over the world 
Edinburgh is well-known for its tram system, which can take you from the airport to the city centre for less than £10 per person. 
It includes a stop for Murrayfield Stadium, which is handy for rugby fans undertaking a Six Nations pilgrimage to the city. 
Trainspotting 
The Edinburgh Gateway station is at the perimeter of the airport, accessible by a tram that will get you there in seven minutes. It's most useful for those whose journeys will take them out of Edinburgh to places like Fife, Dundee and into northern Scotland.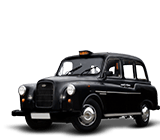 You can also take a tram into Edinburgh Park station – 13 minutes away from the airport – which'll take you to Glasgow, Falkirk, Dunblane and into central Scotland.  
To make life a little easier, you can buy integrated tram/train tickets to and from Edinburgh Airport from any railway station in the UK.  
Top tips for cheap airport transfers 
So, if you're looking for the easiest way to get from the airport to the steaming plate of freshly-cooked haggis and your comfy hotel bed, we can help you compare the range of airport transfers available. 
By Nick Dunn