Comparing Faro airport transfers is as easy as custard pie
How are you planning to get to or from Faro airport? Take a look at this handy guide to Faro airport transfers to see if it could work for you.
Key points
There are plenty of Faro airport transfer options like shared or private transfers, taxis and a bus service
If you wanted to make your own way to and from the airport, you could hire a car
Compare different airport transfer methods to work out which suits your travel plans best
Whether you're saying "ola!" to Portugal or you're flying away to explore pastures new, you'll need a way of getting to and/or from Faro airport. An airport transfer could be your ticket to a stress-free way of travelling.   
Transfers from Faro airport  
Faro airport is as busy as a beehive in summer, so it might be a good idea to sort your airport travel plans out before you go on your trip.  
You're likely to get shared and private transfers, as well as taxis to and from most popular Algarve destinations, like Albufeira, Lagos, Vilamoura, Alvour, Praia da Oura and Praia da Rocha. You can use a comparison site, like us, to see what transfer options are available for specific destinations.  
Whether you take a taxi, a shared or private transfer, you're likely to be picked up outside the airport or your hotel... But bear in mind that using public transport could work out cheaper. Let's take a look at some of your options.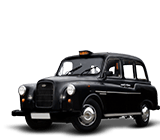 Shared bus transfers 
Some travel agents will offer transfers as a part of a package holiday. 
Shared transfers can be a cheaper way of getting to or from Faro airport, but you'll usually have to stop at other hotels along the way to pick up or drop off other passengers.  
When comparing transfers, you can view a range of shared transfer options, with features like free Wi-Fi or less stops for a speedier journey.  
Taxis and private transfers  
There's a taxi rank right outside Faro airport's main building, so getting a taxi to and from the airport is pretty easy if you book in advance. 
Government taxis are either black and green or a white-beige, so they're easy to distinguish from other independent companies.  
Private transfers are also readily available, and there are plenty of vehicle options, from luxurious saloon cars for travelling in style, to 19-seater minivans for the extended family to squeeze into.  
See also:
Car rental and public transport 
Want to be the master of your own destiny and do your own driving? There are plenty of car hire facilities around Faro airport, so you'll be spoilt for choice if you want to explore the Algarve via car.  
In 2018, there aren't any trains going in and out of Faro airport, but there is the circuit 16 (pink line) bus that provides a service between the airport and Faro city centre. Once you get to Faro, there are other bus and rail routes that can take you to various nearby destinations.  
Top tips for saving money on your Faro airport transfers 
Our number-one tip for saving money on your Faro airport transfers would be to compare all your options to find the deal that works best for you.  
Public transport might work out cheaper than using a transfer company, so check prices before you book. If you prefer speed over price, it's also worth checking out taxis and private transfers, as they can be quicker than a shared transfer. 
Did you know...?
Most smartphones have a GPS feature, so you can use a free app like Google Maps to get you from A to B. This means you don't have to pay extra for a sat-nav when hiring a car from Faro airport! Make sure you get a passenger to use it if you're driving though...
If you're looking to hire a car in Faro, book early and work out what add-ons you need (if any) to avoid spending on things you can do without. 
Generally, booking your airport transfers in advance could save you being stuck in the airport waiting for a taxi or a bus to arrive, while shoulder to shoulder with a few hundred other passengers. 
On that note, if you don't want your holiday to start with a disaster like the Faro Airport passport control strike in 2018, booking your airport transfers in advance could give you peace of mind.  
Knowing your travel arrangements are all sorted before you travel leaves you free to experience the joys of last-minute packing, airport check-in and in-flight food. Isn't that nice?  
By Amy Smith