Get to Gatwick and back again with our guide to airport transfers
London calling? Then you need GoCompare's guide to Gatwick airport transfers!
Key points
Booking in advance is a great way to save on airport transfers
Jumping in a black cab to central London on the meter will be around £100
Gatwick Airport has excellent railway and coach connections to cities across the UK
Gatwick Airport is 30 miles south of central London, nestled in the West Sussex Downs. Wondering how to get there from London or from faraway towns? After a limo, a lift or a locomotive? Wonder no more with our guide to Gatwick airport transfers.
How to save money on Gatwick airport transfers 
It's not just flights, hotels and holidays that you can compare when it comes to travel. Airport transfers are part of the game too. So search, compare, and book in advance to try to save on your Gatwick airport transfers. 
Gatwick Airport transfers - what's available? 
You have lots of options for getting to Gatwick. What links them all (apart from Gatwick, natch) is that booking in advance can often save you a few pounds. 
And with lots of choice comes a bit of competition. And that can mean lower prices if you're prepared to shop around and compare deals. Whatever your budget and wherever you want to go, you're sure to find something that's right for you...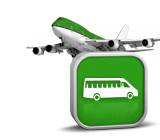 Private transfers - Gatwick Airport to your hotel or home 
For the easiest start to your holiday, then you might want to plump for a private transfer to Gatwick. Get picked up and dropped off wherever you want and at the time you want. While this might sound expensive, if there's a big group of you it can work out to be cost-effective. 
A private transfer to and from the airport is also probably the most stress-free way to travel, as you avoid the hassle of public transport and driving. A private transfer can be a car, minibus, or even a limo. Have a quick search if you'd like to see if you could save on a private transfer to Gatwick Airport. 
Shuttle services from Gatwick Airport to your accommodation 
Halfway between a private transfer and a coach comes a shuttle service. Usually a minibus, these pick you up along with a couple of other travellers on a similar flight. It then drops everyone off at a couple of hotels or pre-agreed points. It's a pretty handy way to travel, so compare what's out there and see how much you might save.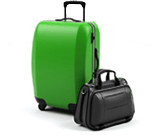 Gatwick airport taxi transfers 
Taxis are available at Gatwick, both pre-booked and on meter. And you'll probably want to compare online to get a quote for a cab and pre-book to save a bit of money. 
If you're heading into central London it takes about an hour, and will cost about £100 in a metered black cab. Expect to pay less in a pre-booked taxi. Uber operates from both terminals at Gatwick. 
Can I catch the train to Gatwick Airport? 
Yes you can! Gatwick says it's the best rail-connected airport in Britain. A big claim. A huge claim. A massive claim. And they might be right. 
Did you know...?
Barcelona, Dublin and Malaga are the three most popular destinations out of Gatwick
Gatwick has its own railway station next to the south terminal, which is on the Brighton main line to London Victoria and London Bridge. 
The Gatwick Express runs on this line, but other trains can drop you at Luton Airport and at Reading for connections to Wales and the west. If you love a locomotive then shop around and compare prices. Booking in advance usually means savings and a seat.  
What about the coach or bus to Gatwick Airport?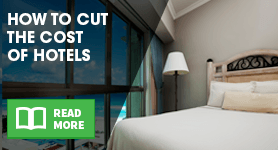 There are coach services running around the clock to and from Gatwick. It's a nationwide network and includes other airports if you need to make a connection. 
There's also local bus companies that link local towns to Gatwick (big up the Crawley massive). Most go from the south terminal. There's lots of options when it comes to coaches to Gatwick, so shop around to see what savings you could make. 
Airport transfers Gatwick to Heathrow 
There's no direct trains between the UK's two biggest airports. But a quick comparison reveals several options for Gatwick to Heathrow airport transfers. These include buses and private transfers. See what's what on your dates and maybe save a few bucks by booking in advance. 
Airport transfers Plymouth to Gatwick 
A lot of people search for this route, so let's join the dots between Plymouth and Gatwick. Alongside private transfers and coaches, there's the train option. Change at Reading for the line to Gatwick.  
On the other side of the Tamar and coming up from Cornwall? You might want to fly from Newquay to Gatwick. A cheeky comparison might throw up some deals for this route. 
Airport transfers Southampton to Gatwick 
Don't fancy the 90-minute drive? You've still got a few possibilities for the gambol to Gatwick. A private transfer or shuttle is probably the easiest route, but there are also coaches and buses. There's a direct train too. 
Whatever way you choose to go, book ahead and try to travel off-peak. Search and save innit. 
What's the best way to get from Gatwick Airport to central London?  
That's entirely up to you. Some people are happy to catch the train, others prefer taxis. Then there are the fans of private transfers. 
Whichever way you choose to make it to Gatwick, always try and find the time to compare all your options. 
By Sam Easterbrook