O-M-Girona! Compare cheap Girona airport transfers…
How are you getting to your hotel on the Costa Brava? Here's our guide on Girona airport transfers to help you choose!
Key points
You can pre-book you airport transfers straight to your hotel from Girona Airport
There's no train station at Girona Airport
Girona is over 50 miles from Barcelona
Ooh, you make my motor run, my motor run 
Got it coming off o' the line, My Girona airport transfers guide from GoCompare  
How to save money on Girona airport transfers 
First things first, have a look and see if you've already got your transfers sorted. If you've booked a package holiday on the ol' Costa Brava, there's a good chance the airport transfers to your hotel are bunged in too.
If you're travelling independently then look to book your transfers in advance. This is usually a lot less expensive than sorting it out when you touch down. Try a quick comparison to see what savings you might make on transfers from Girona Airport. 
Transfers from Girona Airport - what's available? 
Hitting the beaches of the Costa Brava? Perhaps the Pyrenees is pulling you in? Or have you landed in Girona with an eye on Barcelona? Whatever your final destination is from Girona Airport, you've got a couple of options in getting there.    
Did you know...?
The steps outside the Great Sept in Game of Thrones are actually Girona's Cathedral of Saint Mary
If you're coming for the medieval grandeur of Girona itself, it's an eight-mile trip to the city from the airport. Taxis are usually around 30 euros. A bus runs hourly. Girona has a railway station on the main line that connects Barcelona to Paris, but there's no train station at the airport. 
Girona–Costa Brava Airport (GRO) is well positioned in north-east Catalonia to offer easy access to the beaches and resorts on the Mediterranean coast. Pre-booked transfers are likely to be on a coach or minibus straight to your hotel. 
Transfers from Girona Airport to Lloret de Mar 
A popular beach resort with British visitors thanks to its lively nightlife, Lloret de Mar is a 30-minute drive from Girona Airport. 
There are buses to the town which take under an hour. There are also options for a more bespoke and relaxing arrival into Lloret de Mar you might want to consider. Shop around and find your transfers of choice.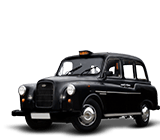 Transfers from Girona Airport to Barcelona 
Girona Airport is a hub airport for Ryanair, which flies lots of seasonal routes here. Ryanair lists it as Barcelona Girona on its website. Yet over 50 miles separate Barcelona and Girona as the crow flies. 
There are however buses, coaches and private transfers available between these two Catalan giants. A cheeky comparison may uncover a delightful deal on airport transfers. 
Transfers from Girona Airport to Tossa de Mar 
While the demand to go there might be massive, Tossa de Mar remains a lovely seaside resort. It's more of a family resort than nearby Lloret de Mar as you have the stunning 12th-century fort on one hand; shandy, sangria and singalongs on the other. 
It's a 35-minute drive and you'll find plenty of choice for transfers, so beat off the crowds and pre-book your airport transfers. 
See also:
Travel insurance for Spain
Flights to Spain
Barcelona flights
Transfers from Girona Airport to Estartit 
About 45 minutes east of the airport is the quiet seaside resort of L'Estartit. Rapid growth has overshadowed the quaint fishing village that was here before. But while L'Estartit has its knockers, the diving on offer and nature parks nearby means it's still worth nipping along to on holiday. 
There doesn't appear to be any direct public transport to L'Estartit. Instead try searching, comparing and booking your airport transfers before you go. 
Compare prices to find cheap transfers from Girona airport 
We all know we can compare hotels, holidays and flights. And it's no different for airport transfers. So hit that button, enter your deets, and see what's on offer. Felices vacaciones! 
By Sam Easterbrook