Off to the Canary Islands? Gran Canaria airport transfers going cheep!
Don't get stuck on the struggle bus. Mosey on over here and join the GoCompare information express, to learn all about Gran Canaria airport transfers.
Key points
Gran Canaria airport is the only commercial airport available in Gran Canaria and is 12 miles from the main city and 16 miles from southerly tourist areas
You can get shared and private transfers, jump in a taxi or take advantage of the bus routes that run between the airport and popular destinations in Gran Canaria
Car hire is also available, and it's always worth pre-booking your Gran Canaria airport transfers, and comparing your options to find some of the best prices
Off on a trip to Gran Canaria? You'll need a way to get between the airport and your accommodation. 
Take a look at this quick guide to Gran Canaria airport transfers and become an airport transfers expert!  
Gran Canaria airport transfers 
Gran Canaria Airport is the only commercial airport on the island, 12 miles from Las Palmas de Gran Canaria and 16 miles from the southern tourist hotspots.  
Taking this into account, you're probably going to need some airport transfers, unless you plan to walk between 12 and 16 miles to get to your hotel, lugging heavy suitcases.  
Let's take a look at some of your options for airport transfers in Gran Canaria.  
Shuttle transfers 
Shuttle transfers are a shared method of travelling, usually by bus, between the airport and various hotels.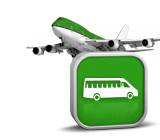 They are available to and from Gran Canaria airport and destinations like Puerto Rico (the holiday resort, not the Caribbean island), Playa del Ingles, Maspalomas and Puerto Mogan.  
Shuttle transfers stop off at various hotels along the way to yours, unless your stop is first (result!) and the number of stops – and therefore the journey time – will vary.  
Private transfers are also available if you don't fancy sharing the journey, but they'll probably be more expensive than a shuttle transfer as you're not splitting the cost with other passengers.  
Taxis and public transport 
You can get taxis to and from Gran Canaria airport, and there's a dedicated taxi company available called Socom Taxi.
As well as guaranteeing your transportation, booking your taxi transfer in advance can help prevent you from being overcharged for journeys or tricked into being picked up by an unlicensed taxi driver.  
See also:
Travel insurance for Spain
The average time to get to Las Palmas by taxi is about 20 minutes.  
In terms of public transport, there's a bus service that makes several stops in the airport terminal and there are routes to Las Palmas, Puerto de Mogan, Aguimes, Maspalomas, Telde and Playa del Cura.  
Most of the routes have buses running every hour, but this can vary.  
Car hire in Gran Canaria 
If you want to make your own way to and from the airport, you can always hire a car in Gran Canaria. Gran Canaria airport has a few official companies that you can rent cars from, but try comparing them with other car hire businesses to see which ones offer the best rates.  
By Amy Smith