Compare cheap Heathrow airport transfers with GoCompare
LHR to LDN ASAP? Here's our lowdown on London Heathrow airport transfers!
Key points
The simplest way to save on airport transfers is to book in advance
A black cab on the meter to central London can cost anywhere between £45 and £90
You can catch the London Underground to Heathrow Airport, via the Piccadilly line
Heathrow Airport (LHR) is about 15 miles west of central London. It's one of the world's busiest airports on the outskirts on one of the world's great cities. This means you have tons of ways of getting there. Of all the Heathrow airport transfers, which one do you want to get you there?
How to save money on Heathrow airport transfers
Comparison sites aren't just for searching flights and hotels. Pop your details in and see what's on offer for Heathrow airport transfers to and from it. And, if you can, try to book well in advance. That's a pretty solid way to make some savings.
Heathrow airport transfers - what's available?
Practically every mode of transport is available to whisk you to and from Heathrow. From the tube to a taxi, chauffer or cycling, do it your way. Shop around and compare prices to find the right one for you.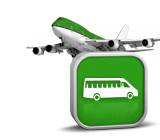 Private transfers - Heathrow airport to your hotel or home
A private transfer is probably the most stress-free way to start your voyage. This can be a taxi or luxury car for individuals or small groups. For larger groups expect a minibus or even a limo if it's game on for your squad. 
Private transfers for a large group, say five-to-10 people, can be a cost-effective way to travel. It's often less than other modes of airport transfer per head. A quick search can show what's about for you and your crew.
Shuttle services from Heathrow airport to your accommodation
Spilt the cost of travel to and from Heathrow with a shuttle service. These are usually minibuses that take groups of passengers to a series of hotels. The bigger the vehicle, the cheaper per head it usually becomes. But more people potentially means more stops. Also it can mean a longer wait at the airport as the vehicle fills up.
Still, you'll be given an estimate for how long the journey will be before you book. And it can be a low-cost way of getting between Heathrow and a hotel. If shared airport transfers sound like the best option for you, then compare what's out there and see what you can save.
How much does a taxi from Heathrow to London cost?
Anywhere between £45 and £90 to central London. It depends on your terminal and the traffic. This is for a metered black cab, but booking in advance will usually mean a lower price. Heathrow airport taxi transfers take about an hour to central London. There are taxi ranks at all four terminals.
Did you know...?
The Heathrow Express is the UK's most expensive train trip in terms of cost per mile
After an Uber from Heathrow? You have to make your way to the designated pick-up point in the short-stay car parks (the parking fee will be added to your ride). Jumping in at the drop-off areas is not allowed.
Is there a train to Heathrow?
Oh yes. In fact you have three rail options: Heathrow Express, Heathrow Connect, and the London Underground.
Heathrow Express. Straight outta London Paddington and straight to Heathrow. The Heathrow express wizzes through West London in 15 minutes with no stops (21 minutes to terminal 5). With such speed comes a more expensive ticket than the other train options.
Heathrow Connect. Also heads out of Paddington but stops at up to five stations along the way. One of these, Hayes and Harlington, connects to Reading.
London Underground. Or 'the tube' to its friends. The Piccadilly line (the dark blue one) rolls all the way to Heathrow, with three passenger stops in the airport (terminal 2 & 3, terminal 4 and terminal 5). Of the three, this is the cheapest train route to Heathrow. Yet it's also the slowest and takes about an hour from central London. All Heathrow Underground stations are in Travelcard Zone 6.
If you think the railway is the right way for you, then shop around and compare prices.
Can I get a coach or bus to Heathrow?
Oh yes again. A couple of coach companies connect Heathrow to towns and cities across the UK. You can also find express services into London Victoria coach station.
Want more hot bus action? Well there's also a bus service that links Heathrow to other train stations such as Feltham, Reading, Woking and Watford Junction.
Airport transfers from Gatwick to Heathrow
Gatwick has a train station. Heathrow has a train station. Do you think there's a train service between them? Pick a private transfer, a coach or a combo of train and underground to make the trip between Gatwick and Heathrow. Best book in advance and do your research before diving in.
What's the best way to get from London to Heathrow?
It's entirely up to you and where you're starting from. The Heathrow Express is quick, but do you need to get to London first? A private transfer is the most convenient but can be expensive. The tube or a coach can be slow but can be cost-effective. Whatever your needs, go compare what's out there and find your best route to Heathrow.
By Sam Easterbrook