Compare Ibiza airport transfers
Want to your amazing trip to Ibiza to begin with someone holding a sign with your name on it after your flight? Then compare Ibiza airport transfers!
Key points
Ibiza Airport is just over four miles away from Ibiza Town and 13 miles away from Sant Antoni
You can get shared or private Ibiza airport transfers or catch a taxi, use public transport or hire a car
It's best to pre-book your Ibiza airport transfers so you can be sure you're able to get to and from the airport. You might even benefit from online or early-booking discounts
Ibiza is part of the Balearic Islands and is an autonomous community of Spain.  
Famous for its banging nightlife and vibrant club scene, it may come as a surprise to know that the tourist office is trying to promote more family-friendly tourism. 
Before you can party all night long or spend the day roaming around Ibiza's archaeological sites, you'll need to get between Ibiza airport and your accommodation. Let's talk you through it. 
Airport transfers in Ibiza 
Ibiza Airport has lots of flights to and from the UK, with the majority taking off during the summer months.  
Ibiza Airport is just over four miles away from Ibiza Town and 13 miles away from Sant Antoni. Even one of the furthest towns from the airport, Cala de Sant Vicent, is just a 45-minute drive away.  
There are good public transport links between Ibiza Airport, Ibiza Town and Sant Antoni. Or you could get shared or private airport transfers, a taxi or hire a car.  
Shuttle transfers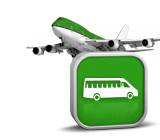 Shuttle transfers are usually done by coach and go from hotel to hotel, dropping off passengers along the way. 
The time your shuttle transfer takes will depend on the number of other drop offs there are and what the traffic's like.  
Shuttle transfers are commonly included in the cost of a package holiday, and are usually the cheapest method of travelling between the airport and your hotel.  
Private transfers 
If you don't want to share your Ibiza airport transfers, you could opt for a private transfer.  
This usually includes a meet and greet, where your driver will be waiting for you in the arrival hall (they'll probably have a sign with your name on it) and then you'll be taken straight to your hotel.  
If you're travelling with a large group, you may find it cheaper and faster to get a private minibus transfer.  
Taxi and public transport 
As an alternative to a shuttle transfer, you could catch a taxi from the taxi rank directly outside the airport terminal. In May 2018, Ibiza Airport keeps a fleet of 69 taxis there, and brings in an additional 70 taxis between June and September.  
If you want to get an Ibiza taxi transfer, make sure to only get an airport official one, to avoid being overcharged. Get a bill for proof of price in case there's any problems.  
There are a few bus routes that stop off at Ibiza airport. Route number 10 runs between Ibiza bus station, Formentera ferry port and San Jorge.  
Buses on route 10 run every 30 minutes in winter and every 15-20 minutes in summer between the below times: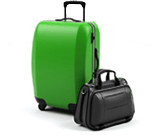 To the airport – Winter: 7am to 11pm. Summer: 6am to 12am
From the airport – Winter: 7:20am to 11:50pm. Summer: 6:20am to 12:20am  
Route 24 goes between the airport, Sant Eularia and Cala Nova, but is only available from late May to early October. Buses on this line run every hour, between: 
To the airport – 7am to 11pm 
From the airport – 8am to 12am 
Route 9 will get you from Ibiza Airport to San Jose and San Antonio between June and early October. These route 9 buses run around every half hour during these times: 
To the airport – 6am to 2pm, 3pm to 12:30 am 
From the airport – 7am to 3pm, 4pm to 1:30am
If you want to use Ibiza's public transport instead of an airport transfer, check with the airport to see if the routes or times have changed before you fly, so you'll know what to expect when you get there.  
See also:
Flights to Ibiza
Ibiza holidays
Car hire from Ibiza  
If you fancy transporting yourself to and from Ibiza airport, there are a few car hire companies based at Ibiza Airport, like the usual suspects Hertz, Avis and Enterprise Rent-a-Car.  
Get cheap airport transfers in Ibiza 
Pre-booking your airport transfers will give you the peace of mind knowing you have a guaranteed way of getting to and from the airport at a set price.  
If you pre-book your airport transfers through a site like ours, you could save a lot of money compared to catching a taxi or getting a transfer from Ibiza airport when you get there.  
For cheap airport transfers in Ibiza, we recommend pre-booking and making sure you choose a transfer that suits your needs. You don't want to end up with a mini-bus for only two people, or be stuck on a shuttle transfer for hours with your restless children… 
Not to mention that rowdy stag party… Yikes!  
By Amy Smith