Pay less for your airport transfers at JFK Airport
Find a great deal on JFK airport transfers with the help of GoCompare.
Key points
Planning your journeys and booking up tickets and passes in advance online could save you money in the long run
JFK recommends only using licensed yellow taxis. Using an unsanctioned alternative could leave you susceptible to a scam
If you're travelling to the US, don't forget you'll need an ESTA permit beforehand to ensure you're allowed to enter the country
So, you've chosen your hotel, your flights are booked and you're all set to take a bite out of The Big Apple. Don't let transportation costs take a bite out of your spending money – sort out your JFK airport transfers with GoCompare and get your American trip off to a dream start. 
What kind of JFK transfers are available? 
New York City is known around the world as 'The City That Never Sleeps'. Luckily, neither does its transport system, leaving you spoilt for choice when it comes to airport transfers from John F. Kennedy Airport (airport code – rather unsurprisingly – JFK). 
The following info and prices were correct in summer 2018. 
Taxi 
NYC is world-famous for its iconic yellow taxi cabs. We've all seen those movies where some guy simply raises his arm and a taxi pulls up in front of him, ready to take him wherever he wants. Sadly, the reality is little more complex than that. 
You may have to pay a surcharge depending on when you travel. For example, travelling during rush hour will cost you an additional $5, while tolls and gratuity in central Manhattan can see you stung for another $18 on top.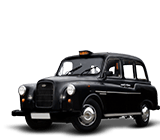 It's also worth remembering that it's American custom to tip the taxi driver upon exit as well, which will be another 20% more. Despite the hefty price tag, the taxi route is often still cheaper than an Uber and many travellers opt for a taxi out of sheer convenience and comfort. 
If that includes you, you can find a taxi stand outside every terminal at JFK. Trips from JFK to Manhattan are typically billed at a flat rate of $52 (not including tips/tolls) and last approximately 40 minutes. On metered journeys, the meter will start at $3 and cost roughly $65 for downtown Brooklyn and around $30 for Queens. 
Bus transfer 
If cost is the primary concern when you land in JFK Airport, hopping on the bus could be the perfect solution. Bus transfers from JFK are one of the cheapest forms of transport available, and are easily located at terminal 5. 
Available 24 hours a day, the B15 bus travels to Brooklyn, the Q3 takes you to Queens and the Q10 will take you to Kew Gardens – all for less than $3 for a single ticket. 
However, it's worth remembering that this mode of transport may not be the most comfortable or practical if you have a lot of luggage to hand. 
AirTrain/rail/Subway 
For the ultimate in cheap New York travel, a combination of JFK Airport's AirTrain and the NYC Subway could be the dream ticket. New York is well connected by rail lines, making it a great mode of transport...if you can navigate around the network of lines.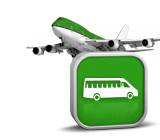 Taking the AirTrain will connect you to a wider radius of locations, via either Jamaica Station line or the Howard Beach line, depending on where you're heading. The Jamaica line connects with Subway lines E, J and Z, while the Howard Beach line connects Subway line A. Meanwhile, the Long Island Rail Road (also connected via Jamaica Station) can take you to a variety of other NY stations, if necessary. 
If you can work out the rail system without feeling like Macaulay Culkin in Home Alone 2, you could find yourself in Manhattan in 60 to 90 minutes for less than ten US bucks ($5 for the AirTrain and around $3 for a Subway single ticket). 
If you do plump for this option, an online route planner may be useful in helping you get from A to B – line hopping can be tricky. Unless, of course, you want to spend your first day in New York frantically chasing random trains. 
Car rental 
While New York traffic can seem like the equivalent of London traffic on steroids, some NYC visitors do prefer to flex their driving muscles and brave the hustle and bustle in a hire car. If you fancy the challenge, JFK Airport can have you riding around The Big Apple in a New York minute. 
There are a number of hire car companies on site at JFK Airport, including a number of internationally recognised brands, such as Enterprise, Hertz and Avis. The rental car counters are situated in each terminal at the arrivals level. However, you'll need to take the AirTrain to Federal Circle Station to pick your car up. 
If you know which company you want to use and the duration of your hire, advanced rentals can be made online. In addition to adding peace of mind to your trip, booking up before you arrive can also bring with it a lofty discount, proving that it really does pay to be prepared. 
See also:
Flights to New York
Holidays to New York
How can I get cheap JFK airport transfers? 
Booking up in advance is a great way to save money on airport transfers. Advanced bookings typically come at a reduced rate, so it really does pay to be prepared. In addition to saving money, it'll also save time when you arrive on the other side and eliminates the stress of organising transport when you touch down. 
If you plan on using a lot of public transport throughout your stay (particularly rail, subway or bus), it may be worth getting a MetroCard. These are available in a variety of forms. However, the two that'll likely be of interest to most tourists will be the standard Pay-Per-Ride option and the more extensive Unlimited Ride. The latter can last for seven days or 30 days, depending on how long you plan on staying. 
Last but not least, it's always worth visiting your friendly neighbourhood... 'comparefolk' at GoCompare before you finalise your airport transfers. A single browse with us can help unearth some bargain transfers, while also highlighting additional options you may not have considered. 
By Martyn Grant