Compare airport transfers to and from Krakow
As strangers in a strange land, traversing the distance between Krakow Airport and your accommodation may seem a daunting task. But it couldn't be simpler with airport transfers.
Key points
You can hire a car from A to B, but this may be an expensive option
Taking a bus or the train is useful for getting into the city centre, but they won't take you directly to your accommodation
Pre-booking your airport transfer should save you both time and money on getting to your accommodation
The second-busiest airport in Poland, Krakow Airport offers several different options for getting into the city via airport transfer. We've compiled a review of them to help you out when booking your holiday to this charming Polish city.
Krakow airport transfers
Planes, trains and automobiles – all ways to get to Krakow. So, when you arrive at John Paul II International Airport Krakow-Balice (to give it its full name), how do you get into the city itself? If this is a question that's been causing you sleepless nights, then step this way and let us help you compare airport transfers.
Transfers from Krakow Airport to the city centre
There are several private companies offering transfer services out of the airport and into the city centre. Krakow Direct, KrakowShuttle and Krakow Airport Express are three such companies. They all offer tours to other locations as well, including Auschwitz-Birkenau, the Salt Mine in Wieliczka, or journeys elsewhere like Wadowice or Zakopane.
All three offer their services for around €20, but the prices may increase depending on how large a group you're travelling in. Ultimately, this is still a reasonably cheap price, but it may help to book your transfer in advance of your flight. That way, there'll be someone ready to meet you when you land and you won't have to worry about waiting for someone to become available.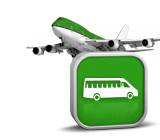 Get to Krakow with speed – airport transfers by bus
You may not be driven by Sandra Bullock, but you can get between the airport and the city centre by bus. Private minibuses are available for those large groups who want a degree of freedom in their journeys, but you can also use public buses. If you haven't got much luggage, or don't mind not going door-to-door, a public bus may be the cheaper option.
Hire a car
If you're after a completely independent holiday in southern Poland, hiring a car may well be the most cost-effective option. One payment for the duration of your holiday, and you're free to go wherever, whenever. There's no restrictions on what time you need to be in certain places. 
Do be careful, as this option may present quite an expensive upfront cost in comparison to other transfer options.
Taxi!
You might be grateful to not have a Hollywood star driving you for this option. If you're in a rush to get to where you need to be, you may be better off grabbing a taxi from the airport's rank. This could be a cheaper option than getting a bus or hiring a car, so it's worth looking into.
Can you hear the train a comin'?
For a journey directly into the city centre, you can catch the train into Krakow Glowny – the main railway station. This might be best if you're en route to a business conference, or if you want to get in some shopping before checking into your hotel. You won't be able to go door-to-door, but if you haven't got much luggage this may not be a problem.
See also:
Flights to Krakow
Hotels in Krakow
Krakow airport transfers reviews
A helpful way to figure out the right option for you is to have a look at customer feedback. Although not all of it can be independently verified as genuine, you can still use it as a relatively reliable commentary on how each transfer compares.
Top tips for a cheaper airport transfer
If we may be so bold, our best tip for getting a cheap airport transfer into Krakow is to let us help. We can help you find the cream of the crop of the airport transfers available. You can then pre-book the type of transfer you want, and save yourself some time, some hassle and hopefully some money on getting to your accommodation, and kick-starting your Polish holiday.
By Nick Dunn