Sort your transfers from Larnaca Airport for your trip to Cyprus
Off to Ayia Napa, Protaras or Kyrenia? Then here's our low-down on Larnaca airport transfers in Cyprus.
Key points
Larnaca International Airport is in the south-east of Cyprus and four miles outside of Larnaca 
You can book transfers from Larnaca Airport before you go
There's no public transport across The Green Line, so may need to book a transfer if you're going to Kyrenia or Famagusta
Larnaca has a lovely airport. But who wants to hang around there queuing for a taxi or bus when the beach is calling? No one, that's who! So skip the queues and start your holiday straight away. Book your transport now with our know-how on Larnaca airport transfers.
How to save money on transfers from Larnaca International Airport
Before we start to explore all your options, it's best to check whether you need to buy any transfers from Larnaca Airport in the first place. If you've gone all-inclusive or have picked a package holiday, the airport transfers are usually included. Have a quick nosey at your confirmation email to see if you need to sort out your own transport.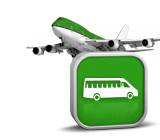 If you do need to sort out transfers, then here's how to get from Larnaca airport to your hotel.
All details and prices were correct in June 2018.
Transfers from Larnaca Airport - what's available?
Take your pick from private transfers, shared transfers, taxis and local buses.
Private and shared transfers are the most convenient way to travel straight to your hotel. You can also book them in advance.
Did you know...?
The UN Buffer Zone between Cyprus and Northern Cyprus is called The Green Line
If you fancy taking some local transport then it's the buses for you, as there are no trains on Cyprus. Instead a network of coaches connects Larnaca to other cities and resorts in Cyprus. These leave from Finikoudes and the bus station. It costs 1.50 euros and takes around 30 to 45 minutes to catch the bus from the airport to central Larnaca. A taxi doing the same trip cost about 15 euros for the 10-minute ride.
You can search and compare airport transfers like you can with flights and hotels. Try one now to see your options.
Larnaca airport transfers to Protaras
Family-friendly Protaras is 40 miles from Larnaca International Airport. Transfers to this sunny delight take around 45 minutes to an hour. There doesn't appear to be a direct public transport link, so hop in a taxi or book a transfer before you go. A quick online comparison can help you figure out what's right for you.
Transfers from Larnaca airport to Ayia Napa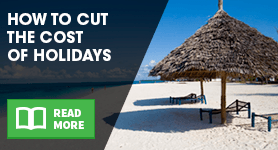 Hedonism, hen parties and hangovers are the order of the day in Ayia Napa. If you're heading to Cyprus's party town then you've got a couple of options for the 35 miles from the airport.
There's a bus that takes over an hour from Finikoudes in Larnaca and costs four euros. A taxi will set you back around 40 euros and is a 30-minute ride. Then there's a private or shared transfer. This is the most convenient way to make it to Ayia Napa and you can sort it before you go. Shop around to find a good deal for you.
Airport transfers Larnaca to Kyrenia
Up on the north coast of Cyprus sits the old harbour town of Kyrenia. It's in Turkish-controlled Northern Cyprus and the locals call it Girne. There's freedom of movement across the Green Line between Cyprus and Northern Cyprus, if you have your passport to hand.
Visitors flock to Kyrenia for the Venetian harbour and chilled atmosphere. How can you get here from Larnaca airport? There's no buses and some local taxis won't cross the border. Instead organise a private or shared transfer before you go. Another option is travelling via Nicosia. Search transfers, compare prices, and sort it all before you fly.
See also:
Flights to Larnaca
Aiya Napa holidays
Larnaca airport transfers to Paphos
Now Cyprus has an excellent network of motorways. But you might want to consider using Paphos International Airport if you're staying in the west of the island. It's a 90-minute drive between Larnaca International Airport and Paphos and a taxi will set you back over 100 euros. You can catch a bus from central Larnaca but the ride is almost three hours long. 
If you are Paphos bound via Larnaca then think about arranging your transfer in advance. Our comparison service can show you what's available.
Compare prices to find cheap transfers from Larnaca Airport
There are many ways to get from Larnaca International Airport to your hotel. Shop around and quickly compare online to reveal what bargains are out there. Booking in advance can not only save you stress at the airport but can also save you money.
By Sam Easterbrook