Don't be left with fear and loathing at McCarran: book your Las Vegas airport transfers now!
Planing on livin' it up in Nevada? Find the right Las Vegas airport transfer for you and arrive on the Strip in style.
Key points
The airport serving Las Vegas is south-east of the Strip
It's about five miles from downtown Las Vegas to McCarran Airport
Book your airport transfers before you go to save some money and reserve your ride
The 'Welcome to Fabulous Las Vegas' sign. The most famous one in the world? Maybe. But imagine starting your trip to Sin City by seeing it from the back of a limo. There's surely no more iconic way to start your stay? 
Sounds like your kinda thing? Or you're just looking for the quickest way to hit the Strip? Whatever way you want to get from McCarran to downtown, we've got it covered with Las Vegas airport transfers. 
How to save money on transfers from McCarran International Airport 
First things first, have a quick check whether you need to sort out your transfers. If you're in Vegas on a package deal or rollin' in all-inclusive style, then your airport transfers are likely to be part of deal. Have a quick scan of your docs to see what's what. Some casinos and hotels also lay on free airport shuttle services, so if you're staying there, you might not need to pay for a transfer.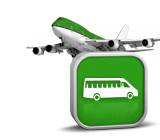 Do you need to make your own way from the airport to Las Vegas? No worries, you have lots and lots of choice. Want to spin the wheel and figure it out when you get there? Then go for it, you do you. 
Prefer to stroll off the plane, avoid the queues, and be on the Strip in 10-15 minutes? The book your airport transfers before you go. Pre-booking your Las Vegas airport transfers is also a great way to save money too. And you can compare prices on airport transfers just like you can with flights and hotels. Search now to see what you can save. 
Transfers from Las Vegas Airport - what's available? 
Limousines! It's Vegas baby! There's also less lengthy automobiles for private and shared airports transfers to your Las Vegas hotel. These can be booked and paid for in advance. Otherwise it's a taxi or a bus for the five-mile journey.  
Las Vegas airport transfers by limo 
Get the party started as soon as you touch down with a limousine into Sin City. While it can be a pricey way to get into Las Vegas, it can also be a pretty special way to do it. Book before you go and compare prices to find a good deal. 
Did you know...?
The 'Welcome To Fabulous Las Vegas' sign stands at 5200 Las Vegas Boulevard... which is not technically in Las Vegas
Is a limo a bit too extravagant? But still fancy a luxury airport transfer to Las Vegas? Then a private transfer could be the ideal hand for you. Expect a high-end motor (think Mercedes Benz) and one of those guys with your name on a little sign.  
Another way to book and save before you go is a shared airport transfer. Stress-free and convenient, this'll shuttle you and a few other guests from the airport straight to your hotel. 
Can I catch the monorail to Las Vegas airport? 
Nope. The Las Vegas Monorail (mono means one, and rail means rail) runs between the casinos on the east side of the strip, but not to McCarran International Airport.   
How much is a taxi from Las Vegas airport? 
Anywhere from $15 to $40. It depends on where in Vegas you're heading, how bad the traffic is, and how much you're tipping. The airport is south-east of the Strip, so the further up you go, the more it'll be. 
Is there a bus to McCarran? 
Yep, though most tourists tend not to use it. While it costs around $3, it can take up to an hour to hit downtown Las Vegas and involves a change. Not exactly high-rollin', but could leave you with a few extra quarters for the slots. 
Transfers from Las Vegas airport to Luxor Hotel 
Staying in one of the most iconic hotels in Las Vegas? Lucky you. But your luck doesn't extend to a free airport transfer. There are, however, shuttle buses, taxis and limousines that run between the Luxor and McCarran and often park at Luxor. Book in advance and compare prices for the most convenient start to your stay at the Luxor Las Vegas. 
Compare prices to find cheap transfers to Las Vegas from McCarran International Airport 
Ok, so you have lots of ways to get from the airport to the Strip. And booking in advance is often the best way to find a good deal. But before you do book, try a quick comparison to see prices and make an informed decision. 
By Sam Easterbrook