All aboard Lisbon airport transfers
A car, a bus or a train – check out what you need to know about Lisbon airport transfers
Key points
Lisbon has one airport, and there are plenty of options when it comes to getting to your hotel
Shuttle transfers, private transfers, taxis, buses, the metro and car hire are the ways you can get to and from Lisbon Airport
To save money, pre-book your Lisbon airport transfers, so you have guaranteed transport and peace of mind
Lisbon is the capital city of Portugal and it has one airport, Humberto Delgado Airport (Lisbon Airport). 
The airport is situated within easy reach of favoured tourist nooks, like Belem, Cascais, Parque das Nacoes and Estoril.  
But before you can go off exploring, how do you plan to get to your hotel? With Lisbon airport transfers of course!  
Lisbon airport transfers 
Lisbon Airport has lots of flights to and from the UK, and plenty of airport transfer options to go with it.  
Let's have a look at some of your options when it comes to Lisbon airport transfers.  
Shuttle/shared transfers 
A shuttle transfer is a shared trip, usually in a coach or bus, that stops off at various hotels and drop-off points.  
This is usually the most cost-effective method of airport transfer, as the price is shared among your fellow passengers. But it can take quite a while to get to your hotel, depending on where it features in the drop-off queue.  
You can get shuttle transfers to places like Cascais and Lisbon city centre. Just shop around to find out what transfers are available to your destination.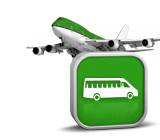 Private transfers 
If you don't want to share your transport, consider getting a private Lisbon airport transfer.  
Private transfers tend to be more expensive than shared ones, but you'll likely get to your destination faster, as there are no extra drop-offs for other passengers.  
You can get private transfers for most places like Lisbon city centre, Cascais and Fatima. 
If you're going further afield, to places like Faro or Porto, it would probably be more cost-effective to get your flights at closer airports, like Francisco Sá Carneiro (Porto Airport) or Faro Airport.  
Meet and greet 
Most private transfers will involve a meet-and-greet service. This means your driver will be waiting for you in the arrivals hall or at a pre-arranged meeting point. With a sign! 
Lisbon Airport taxi transfers 
There are usually plenty of taxis around Lisbon airport, and you can pre-arrange one or get one on the day – though this is risky, as you could end up waiting around or paying a higher fare.  
Make sure you agree on a price before you set off and get a receipt, or keep an eye on the meter to make sure you aren't overcharged. 
Lisbon Airport says that, with its official taxi company GTR Ltd, it should take about 15 minutes and cost around 15 euros, although prices may be higher during the night.  
Public transport and Lisbon Airport 
In terms of public transport, Lisbon Airport has a metro and a bus service.  
The metro trains in Lisbon run between 6am and 1am daily, and the airport has links with all three major lines, so you'll be able to get to any major city in Lisbon easily.  
The queues for the ticket machines may be fairly long, and some locals may offer to help you get your ticket faster. Like most things in life, this help isn't free.  
If you want to travel by bus, Lisbon airport has three bus services: 
Aerobus – this service should have space for your luggage and they make limited stops, so you'll get where you're going faster.  
City buses – these only have daytime services, and there are four bus routes going to popular destinations in Lisbon: 705, 722, 744 and 783.  
Night buses – these provide night transport to Lisbon's three main bus terminals; Sete Rios, Oriente and Campo Grande.   
The above information was correct in June 2018, but transportation in Lisbon could change at any time, so double-check before you book or plan anything.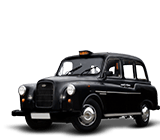 Car hire in Lisbon 
There are two types of car hire in Lisbon – private chauffeur (which would probably come with a hefty price tag!) and the usual car hire for you to drive.   
Car hire companies at Lisbon Airport include Europcar, Hertz, Avis and Budget, and prices can vary.  
Make sure you familiarise yourself with Portugal's motoring laws before setting off to avoid any unexpected surprises. And definitely don't forget to drive on the right while there!  
Get cheaper deal on your Lisbon airport transfers 
If you pre-book your airport transfers through a site like ours, you could save a lot of money compared to catching a taxi or getting a transfer from Lisbon Airport when you get there.  
Keep your airport transfers information close at hand when you get to Lisbon, and enjoy the trip!  
By Amy Smith