We'll help you find airport transfers in Luton
You've planned the perfect getaway via Luton, but your car breaks down the night before your flight. How will you get to the airport now? With an airport transfer, you can forget about your worries and let someone else get you there!
Key points
You can get a private taxi or a bus directly to the terminal in Luton
Factoring in the shuttle bus journey, you can also get the train to and from the airport
The airport also offers its own taxi services
Getting to and from Luton Airport couldn't be simpler with an airport transfer. But when you're so spoilt for choice, where do you start? Well, we've come up with a guide to the airport transfers into and out of Luton Airport to help you. Any time! 
Luton airport transfers 
Sitting roughly 30 miles from Central London, Luton was the fifth-busiest airport in the UK in 2016. It's the fourth-largest airport of the six that serve traffic to and from London. It mostly serves routes within Europe, but has some select routes for destinations in Asia and North Africa.  
Transfers to Luton Airport 
Getting to Luton Airport is relatively simple. If you wish to leave your car there, parking is readily available, and the airport is easily accessible from the M25 or M1. 
If you live in London, however, you know that driving there is nigh-impossible. So a train is probably a safer bet. You can get a direct train to Luton Airport Parkway from St Pancras International, or from other stations like Blackfriars or Farringdon. The average journey time from London is about 40 minutes, and you can then hop straight on to the 10-minute shuttle bus for a transfer directly to the terminal! 
Those coming from the south can catch trains into London and then grab the tube into Luton Airport Parkway. Those who live further north can get direct trains to Luton Airport Parkway from the Midlands, or connecting trains from other northern cities. 
A cheaper alternative to the train is a bus or coach. Particularly useful for a large group, a private coach can drop off its passengers for free at the coach drop-off lane just outside the terminal. For those living in London, the National Express and Green Line services operate routes to and from the airport to plenty of London locations.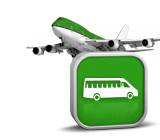 Transfers from Luton Airport 
All the above options work in reverse as well, so if you're flying into Luton Airport you can get the shuttle bus to the train station and be off on your way home without too much hassle. You can also get back into your car and drive back on to the M1 in minutes. If you haven't got too much luggage, easyJet has a base at Luton Airport, and it operates its easyBus service between Luton and London Victoria. 
If you've arrived after a lengthy flight, and would rather not drive (who would?), you can book a private hire vehicle. Addison Lee offers private hire vehicles from Luton Airport, and will take you anywhere you need to go.
Luton Airport also does its own taxi service, so if you're dashing off to a business conference in the City – or jetting off to an emergency meeting in one of your company's international offices – hopping into a cab for a quick fare is also an option. 
By Nick Dunn