Cheap deals on Madeira airport transfers? Saucy!
There's nothing quite like the magic of emerging off a plane, soaking up the new climate and stepping foot on foreign soil... until you have to sort out last-minute transfers.
Key points
Planning your journeys and booking up tickets/passes online in advance could save you money in the long run
Be wary of taxis without a meter. If you can't see your fare, you could wind up with a nasty surprise once you arrive at your destination
Most of the travel services are clearly marked and located on the ground floor at arrivals
Landing in any country can be an exciting and liberating experience. Sadly, the fun very rarely starts there, and any childlike excitement is usually ground to a very adult and orderly halt with the excessive waiting and red tape that follows. 
Worse still, actually getting from the airport to your hotel can be a real pain in the booteus maximus. Luckily, we're here to make your Madeira airport transfers a total piece of cake. 
What kind of Madeira transfers are available? 
Despite being a relatively small airport, Cristiano Ronaldo Madeira International Airport (to use its full name) has a good selection of public and private transportation on hand. 
Ranging from the cheap and cheerful to pricy luxury, there's a mode of travel for all budgets, all tastes and all adventures. Read on for a quick rundown of just what they have on offer! 
All modes and prices were correct in June 2018.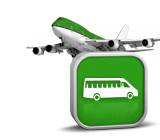 Shuttle 
If you're after a quick exit from the airport upon arrival, the Aerobus shuttle could be for you. At just €5 for adults, €8 for a return and €2.50 for kids, it's hard to overlook the Aerobus for value and convenience. What's more, you can ride safe in the knowledge that it's an official airport service. Better still, if your flight is delayed, the Aerobus will even wait up to an hour for you. 
The Aerobus departs from the arrivals area and stops at a number of hotels en route, terminating at Praia Formosa. The whole shuttle trip takes approximately 45 minutes if you stay until the very last stop, where you can take a further connection to central Funchal if need be. The additional connection will add about 20 minutes to your trip. 
Bus transfer 
Like most airports, there's also a bus service that runs throughout the day. The following services run from the airport to a number of locations in Madeira. Simply find which one is most suitable to your destination and ride away! 
Service numbers: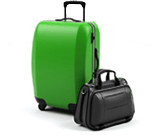 With the exception of December 25th (apparently it's someone's birthday that day), the bus service runs year round. A trip from the airport to the city of Funchal (12 miles) will set you back just €3.35, making this the most economical option if cost is a concern. 
Taxi 
As is usually the case, the most direct route to your destination will likely be available via taxi. Luckily, airport taxis are provided by Aitram Taxis, and there's a taxi rank at Madeira Airport conveniently located on the ground floor at the arrivals area. However, that convenience does come at a price. 
Regardless of the destination, all trips on weekdays begin at €4. What's more, there's also a 20% increase for trips made between 21:00 and 06:00, while that same 20% increase also applies for trips made on weekends or holidays. If you're travelling with luggage and/or animals, an additional fee of €1.50 will also apply. Boooooo! 
Car rental 
If riding with others isn't your cup of tea, don't throw in the towel just yet - there's always the option to hire your own private transport. Run on your own time with a rental car and get where you want to be when you want to be there without waiting for anyone. 
Madeira Airport has a number of hire car companies as their partners, including many international names with which you'll be familiar – such as Avis, Europcar and Enterprise. All hire car companies are situated before security on the ground floor at arrivals, where you can discuss your options with a member of their respective teams. 
While this is likely to be the most expensive option, it could be particularly useful if you plan on getting behind the wheel throughout your stay. 
How can I get cheap Madeira airport transfers? 
As with flights and hotel reservations, booking up in advance and getting ahead of the curve can pay dividends later on. A number of transport services offer advance booking of trips, often in the form of vouchers, tickets or cards. 
Aitram Taxis offers a 'taxi voucher' that can be reserved/bought in advance online, while the bus and Aerobus services also offer a variety of cards and bus passes to give you the best bang for your buck. 
It's also worth remembering that most decent taxi services will use a meter, so if you do happen to get into a taxi that doesn't have a meter, you could wind up paying over the odds once you get to your destination. The last thing you want to kick off your Madeira experience is to naively mistake a friendly Portuguese for a sneaky Portugeezer, right out of the gate. 
By Martyn Grant