The Madrid transfer window is open - compare cheap airport transfers with GoCompare!
Arriving in the largest city in Spain can be a thrilling experience. Sadly, the subsequent airport transfer probably won't be... but it can be hassle-free if you compare your options.
Key points
Buying a travel pass or tourist pass could save you a lot of money if you foresee yourself hopping on a lot of public transport around Madrid
Always make sure your taxi driver starts the meter before you set off. Failure to do so could leave you open to being overcharged
The bus route is often the cheapest option, although it could be tricky to navigate if you're unsure of the area
The city of Madrid has a lot to offer any tourist that passes through its streets, from the beautiful scenery and architecture to the history and culture that engulfs it. For the more modern traveller, there's also Warner Brothers Movie World and the home of Real Madrid FC. 
Whatever brings you to Madrid, chances are that you're not going to want to waste a second once you arrive. With that in mind, get a head up on the competition with this guide to Madrid airport transfers. 
What kind of Madrid transfers are available? 
Madrid Airport is one of the busiest airports in Europe, and saw over 53 million passengers pass through its terminals in 2017. In fact, the airport is so vast that it even offers internal public transport options between terminals. 
With transportation on offer before you've even grabbed your luggage, it's no surprise that there are a litany of options for those looking to get from A to B once they hit the street. Luckily, we've outlined them for you below to give you a general idea. 
All information and prices were correct in summer 2018.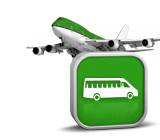 Car hire 
While it may be the most expensive option of getting from A to B, private hire of your own vehicle is as convenient and independent as it gets. Better still, if you plan on doing any driving or exploring of your own throughout your stay, getting a car right from the point of touchdown could prove to be a wise move. 
Madrid Airport has a strong roster of rental car companies on hand, many with an iron-clad international reputation, such as Avis, Europcar and Enterprise, among others. 
All of these rental services can be found at terminal 4 and terminal 1, where a company representative will be able to talk you through the various options available. 
Underground/train 
One of the easiest, hassle-free and speedy options is the underground option. Metro line 8 runs from all the airport terminals and travels to Nuevos Ministerios Station in approximately 15 minutes. Better still, that convenience also comes at a low, low price, and transfers from Madrid Airport to city centre locations can cost just €5. 
Meanwhile, at half the cost of its underground brethren, the standard train service runs from terminal 4 to the city centre on Renfe Cercanias Line C-1. This service runs every half an hour, except for when there are closures to Metro Line 8, when the train will increase its service to run every 15 to 20 minutes. 
However, it's worth remembering that neither the train carriage nor the underground is as spacious as other transportation options. This may not be suitable if you happen to be carrying bulky luggage or several bags. 
Bus transfer 
There are a number of city buses that run from the airport to central Madrid, while there are also several intercity buses that run as well. 
With tickets as low as €1.50 for a single journey, this is the most economical option by far, although it could also be the trickiest to navigate. However, if you fancy yourself as a bit of a logistical dynamo, this could well be right up your street.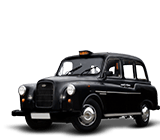 Service numbers are as follows: 
101 
200 
203 
822 
824 
827 
828 
Simply find which route is most convenient and most relevant to your journey and away you go! 
Private hire 
If you want all the service of a taxi but all the comfort of a hire car, Madrid Airport even offers chauffeur-driven private vehicles, with drivers on hand to allow you to travel in comfort and style from the moment you hit the streets of Madrid. 
These services are supplied through private hire companies, Grand Class and Cabify – with a very distinct difference between the two in both price and approach. Cabify offers a more affordable option, allowing a variety of options, including child seats, wheelchair access, groups and executive travel. They even have an eco option, allowing you to travel in an electric taxi. 
Meanwhile, Grand Class offers a premium service with cars ranging from BMWs, Audis and Mercedes to seven-seater minivans and 19-seater minibuses. You can even hire a 31-seater VIP coach for an immediate sight-seeing tour of the city, if you want to get your tour of the locale off to a flying start. 
These services are available at terminal 1, 2 and 4. 
Taxi 
Each terminal in Madrid Airport has clearly marked taxi ranks outside the Arrivals area, where official taxis are distinguishable by their white colour, red stripe and Madrid City Council coat of arms on the doors. 
While often seen as the most convenient and the preferred mode of transport of many, it can also be notably more expensive than the other options. If your journey is less than 10km (6.2 miles), the minimum fare will be €20. There may also be supplemental charges on top and the fare is more expensive on weekends and during the hours of 21:00 and 07:00. 
How to save money on Madrid airport transfers 
If you're tempted to go down the taxi route, it's also important to remember that official airport taxi drivers won't be within the terminal trying to win your business. If you want to avoid getting stung by a bogus taxi, try to avoid those that offer you taxi services inside the terminal. 
Plus it's smart to make sure that the taxi driver starts the meter at the beginning of the journey. Failure to do so could result in a hefty and overpriced fee coming your way at the end. 
As for actual cost cutting, a travel pass or tourist pass could be well worth considering. The Transport Pass allows for unlimited travel within its corresponding zone, while the Tourist Pass provides the cardholder unlimited use of all public transport in the Community of Madrid during its validity period – both great money-saving options if you're looking to see the city. 
Always be sure to compare your options in advance though. Plus, you could use our airport transfer service, and have the peace of mind of booking your wheels ahead of time. 
By Martyn Grant