Compare transfers for Malaga Airport
Malaga is home to one of the world's scariest footpaths, the Caminito del Rey. Fortunately you don't have to walk along it to get from the airport to your hotel! A cheap airport transfer will suffice.
Key points
There are several different options for your airport transfer, depending on your budget and group size
Public transport is as readily available as private transfers
You can get a transfer beyond Malaga as well, out to places like Marbella or Nerja
Opened in 1921, the Caminito del Rey is among the most vertiginous footpaths in the world. It clings to the side of cliffs along the Gorge Desfiladero de los Giatnaes, through which flows the River Guadalhorce. At over 100 metres above the ground, it's a mercy you don't have to walk along it from the airport into Malaga. 
A much safer way of doing so is to get an airport transfer. And you can use our comparison service to help you find the right one and get to your hotel that much quicker. 
Transfers from Malaga Airport 
If you can't wait to shed your luggage at your hotel, your best bet is an airport transfer. You can take a taxi, book a bus, or get a personal, private transfer depending on your own preferences, the size of your group, and your budget. 
The following information and rough prices were correct in summer 2018.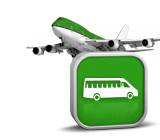 Cheap Malaga airport transfers 
Malaga Airport doesn't just serve traffic to Malaga itself. There are several resorts in easy reach, but you can even go as far as Seville if you need to. 
For as little as 25 euros you can take a personal transfer, or a group shuttle, to Nerja – famous for its caves and Roman settlement remains. For a similar price, you could go to Marbella instead, a city well-known for its golf courses and luxury hotels.  
If you don't want a personal transfer, but just need to get to the city centre, there are regular buses going on urban, intercity or long-distance routes. You can hop on one to the city centre of Malaga which runs every 15 to 25 minutes, and operates between 7am and midnight.  
You could also get the bus into Marbella, Estepona or Santa Amalia. Depending on which service you use, you may be paying the kingly sum of nine euros for this privilege. 
Malaga airport taxi transfers 
If you've got more luggage than you'd be willing to drag through town from a bus stop to your hotel, getting a taxi may be the best solution. 
Although you could just hop into a cab on arrival at the airport, it may be a good idea to book one in advance to make sure it's there ready and waiting for when you step off the plane. You could hire a private vehicle well in advance to ensure you get a cheap price for your transfers as possible. If you don't, you may have to pay quite a bit to use a standard airport taxi. 
Plus, being dropped off directly at the door of your hotel is always a bonus. 
Train yourself… 
…and get the train from Malaga Airport. If you just want to get into the city, you can get on to the C1 rail line from Malaga into the city itself inside 15 minutes – not too shabby for a train ride! 
Tips for a cheap airport transfer 
With several companies offering their services for private airport transfers, and the competing public transport options, how can you choose the right transfer for you? Go compare! 
We mean that literally. Compare the transfers available with our handy comparison service, and you could save yourself time, money and stress when getting to your villa or hotel. 
By Nick Dunn