Find cheap airport transfers to Malta
Fancy a Mediterranean getaway? Of course you do – and so do we. Well, we can't actually go to Malta together (sorry for getting your hopes up), but the least we can do is arrange an airport transfer to your hotel in style, comfort, and double-quick time.
Key points
There are several ways of getting from the airport to your hotel, including bus, shuttle and taxi
You may have to take a ferry for part of the way, depending on your ultimate destination
Taxis can be hired 24/7 in Malta at a pre-paid price, which is convenient for those on a budget
An island holiday in the sun… Sounds glorious, doesn't it? At least, it will once you've checked into your hotel. But that can seem a million miles away if you've touched down in the middle of the night and realised you've no idea how to get to it. That's where airport transfers come in.
Transfers from Malta Airport 
Malta itself is an archipelago, made of three large inhabited islands and 18 uninhabited smaller islands. There's no direct transfer between the airport and the other two inhabited islands, but you can catch a ferry between the three easily enough. 
All the following info and rough prices were correct in summer 2018.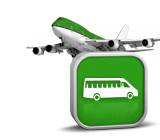 Malta airport taxi transfers 
One of the quickest ways of getting out of the airport is to hop in a cab. You can hire one any time, any day of the year, but there's an extra 4.50 euro charge for any journeys on Christmas Day and New Year's Day. The taxis will go anywhere you need them to for anything up to 32 euros. This means you can very easily get a transfer to St Julian's or Qawra without it costing the earth. Most of the taxis can fit up to four people in without difficulty, but be careful about the size of your suitcases! 
Even better, you can buy pre-paid tickets for the journey, meaning you don't have to worry about lengthy journeys burning a hole in your pocket.  
Transfers from Malta Airport to Gozo ferry 
To get to the island of Gozo, you'll need to get the ferry. However, the taxis from the airport only operate on the island of Malta, and don't go to Gozo. So, if you're booked into the Kempinski Hotel San Lawrenz, how are you going to get there? 
An airport shuttle, of course! Going between the airport and the hotels on the archipelago, it'll literally take you door to door. The price of the transfer will obviously vary depending on where your hotel is in relation to the airport. 
Cheap airport transfers in Malta 
If there's a large group of you, or you have more luggage than the taxi has room for, it may be best to get the bus out of the airport. There are four express buses that service the airport – the X1, X2, X3 and - you guessed it - the X4. They all go on different routes around the island of Malta itself, but only the X1 will take you to the ferry, if that's where you need to go. 
Buses may be cheap, as might the taxis, but if you value your independence, you may be better off getting a hire car. You can find the usual suspects in the airport, such as Avis, Budget and Europcar.  
Our top tips for Malta airport transfers 
So, now you know how you could get from the airport to your hotel. But which method should you choose? Well, we reckon comparing them might be the best way to do it. 
With our airport transfer service, you can compare and contrast the different transfers so that you can find the right one for your budget, group size and destination. It's just a shame we can't enjoy that Mediterranean holiday with you… 
By Nick Dunn