Head straight to the souks by comparing Marrakech airport transfers
Morocc-go as soon as you land by booking your Marrakech airport transfers now! Compare options and find the best deal for you. 
Key points
For the most convenient start to your Marrakech holiday, book your transfers in advance
If you catch a taxi, make sure the meter is on or you negotiate a price before you start
There's no trains to and from Marrakech Menara Airport
Don't waste your time at the airport – you've got one of the world's most dazzling and frazzling cites to explore. Here's our lowdown on Marrakech airport transfers, so you can start your adventure as soon as you touch down. 
How to save money on transfers from Marrakech Menara Airport 
Before you pop your details in, double-check whether you need to buy airport transfers in the first place. If you're coming to Morocco on a package or all-inclusive holiday, chances are that your whip to the hotel is included in the price. Never assume though! Scan your confirmation email and see the score. 
If you do need to buy Marrakech airport transfers then here's the best way to save money and stress: book in advance.  
Did you know you can do an online comparison for airport transfers? Yep, along with hotels, flights and holidays, airport transfers are part of the GoCompare game. Search and see what you might save.   
Marrakech airport transfers - what's available? 
Only four miles separates Marrakech Menara Airport and the Red City. Despite the short trip, you have many options to make it to the Medina or Ville Nouvelle sides of Marrakech.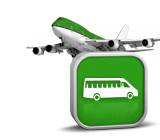 These are: 
Private transfers 
Shared transfers 
Petit taxis (small/normal-sized cars compared to the larger 'grand taxis' that run between Morocco's cities)
Local bus 
The following details and rough prices were correct in summer 2018. 
Private and shared transfers from Marrakech airport to your hotel 
First time in Marrakech? Staying in a riad in the Medina? It can be a bit of a warren, so think about booking a private transfer. This involves the whole guy-with-a-sign-in-arrivals, an air-conditioned car, and going straight to your hotel.
Did you know...?
The Berber phase "murr akush" means "the land of God", and is the origin of Marrakech's name
Staying in the Palmeraie, the oasis north of the city? A private transfer could work for you too. Also, if you don't fancy the hassle of dealing with a taxi driver, then book in advance. 
A shared transfer is the same kind of deal, but with a few extra stops at hotels and possibly a wait for other flights to land. It all depends on who you're sharing a transfer with. 
Whether you're after private or shared Marrakech airport transfers, shop around and compare prices. 
What's the cost of a taxi from Marrakech Airport to the Medina?  
It depends who you ask and how well you can barter. On the meter, a petit taxi to the airport is about 15 to 20 dirhams. The official price on the signs is 70 dirhams. But drivers will ask for double this. If you're happy to walk outside the airport you can secure a lower fare. Alternatively book in advance and avoid the bother altogether. 
Is there a Marrakech airport bus?  
Yep. The #19 airport express bus. It runs every thirty minutes for most of the day. The only bus stop is at Jeema El Fna but it can make request stops. It's a cheap way to do it, but if you're unfamiliar with Marrakech it can be a little daunting. It costs 30 dirhams.   
Transfer time from Marrakech Airport to the Medina 
As it's only a few miles, the drive to the airport is about 20 minutes from central Marrakech. This depends on traffic though. Trips from the Palmeraie or on the bus will take longer.  
Compare prices to find cheap transfers to Marrakech from Marrakech Menara Airport 
You've got lots of choice when it comes to the final leg to Marrakech. A quick comparison can help you find the right one at the right price for you. Dodge the queues and start your break in style by pre-booking your Marrakech airport transfers. 
By Sam Easterbrook