Compare quotes for Naples airport transfers and don't Pom-pay over the odds!
Staying in Naples, Sorrento or Amalfi? Find the best way to travel to your hotel by comparing Naples airport transfers.
Key points
A private transfer from Naples airport to your hotel is the hassle-free way to enter Napoli. You can book them in advance too. Compare away!
There's no train station at Naples International Airport, so when it comes to public transport, it's the Alibus airport shuttle
If you do opt for a taxi, make sure it's an official one and has a meter. Taxis are white in Naples.
You've landed at Aeroporto di Napoli-Capodichino. How do you want to get to your hotel? A private transfer? Jump in a taxi? Give the bus a go? We'll look at all your options in our Naples airport transfers review. 
All info and prices were correct in summer 2018. 
Naples airport transfers - what's available? 
You can search, compare and book your airport transfers before you fly. A private transfer can whisk you from arrivals straight to your hotel. No queueing, no faffing around with euros, and no navigating local public transport. You even get a guy with a sign at the airport. 
It may sound like the luxury option, and it can be. But it can also be a money-saver if there's a large group of you. Still, if you're determined to do Naples in style, why not book a luxury or executive car to sweep in to city or the resorts along the coast? Compare quotes and see if you could bag a bargain! 
Another option when it comes to pre-booking is shared airport transfers. More likely than not a minibus or small coach, a shared transfer can collect you from the airport and drop you off at your hotel. Sharing a transfer can bring down the cost. But it can take longer as the minibus is likely to make a few stops at other hotels. Still it can help you get a feel for the layout of the city. And hey, your hotel might be the first stop.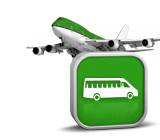 If you're happy to take your chances at the airport then take your pick of taxis and local buses. There's no train station at Naples International Airport. The Alibus airport shuttle bus is an express service that stops at Stazione Centrale and Molo Beverello ferry terminal only. It costs four euros. 
A taxi to the seafront hotels from the airport is 25 euros and should be a fixed fare. Watch out for illegal taxis. Official ones are white and have a meter.  
One thing to note is that if you're coming on a package holiday, it's likely that your airport transfers are included. Have a quick perusal of your paperwork and see if you need to book your own transport. 
Naples International Airport is less than four miles from downtown Napoli. 
Transfers from Naples airport to Sorrento 
At the southern tip of the Bay of Naples, Sorrento is the gateway to the Amalfi Coast and hugely popular with tourists. It's 30 miles south of from Naples Airport and takes around an hour by car. Consider pre-booking a transfer to save some euros. A taxi on the day will be in the region of 85 euros.  
The other option is to make your own way into Naples and head to Molo Beverello. From there jump on a hydrofoil or ferry to Sorrento. You'll be on the water for 35 minutes. 
Naples airport transfers to Amalfi  
Lovely Amalfi, the small town the whole fab coast is named after is 40 odd miles from Naples International Airport. There's no direct public transport, so think about comparing and booking your Naples airport transfers before you leave. A taxi on the meter is likely to be in the region of 140 euros. Yikes!  
Compare prices to find cheap transfers from Naples Airport 
No matter where you're travelling to in or around Napoli, you have lots of options. If you're happy navigating public transport, there's buses into Naples and ferries to the coastal resort towns. If you're after a stress-free final leg, then a private or shared transfer direct to your hotel might be more your style. It can also save you money, as booking in advance is usually the thrifty option. Compare what's out there and see what you could save. 
By Sam Easterbrook