There's more to New York airport transfers than yellow cabs
Landing in New York can be an exciting experience. Don't waste a minute organising airport transfers and let GoCompare help you sink your teeth into The Big Apple right away.
Key points
Booking your airport transfers ahead of time can save time and money once you arrive in New York
Although world famous for its yellow taxi and hailing cab service, taxis from New York's major airports can be very expensive
Pre-booked shuttles can be an affordable, comfortable and convenient alternative to the yellow taxi service
So, you've arrived in New York, you've collected your luggage and are ready to enter that New York state of mind. All you need to do now is get from A to B... which can be a balancing act of puzzling and pricey. 
Keep your fairytale of New York from becoming a New York nightmare with this handy window into NYC airport transfers. 
Airport transfers from New York airports 
If you're landing in JFK International, Newark International or LaGuardia airports, you won't be short on options – particularly if you're travelling to Manhattan. All three have great transport links, giving you a myriad of choices on how you reach your destination. 
Luckily, we've done the hard work for you, separating the good from the bad, the men from the boys and the Yankees from the Mets. Read on for everything you need to know about airport transfers in NYC. 
All info and prices were correct in summer 2018. 
Taxi 
Of course, it wouldn't be New York without the world-famous yellow taxis that rule the roads and riddle the streets. Luckily, these same yellow cabs can be found at the airport too. A number of these can be found conveniently lined up at the exit of most terminals in each airport.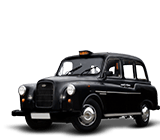 However, there's no such thing as a free ride, and this is never more evident than a cab ride in NYC – far from it! A typical taxi journey from JFK to Manhattan costs around $50 with additional charges for tolls and state tax on top. Worse still, if you're travelling during rush hour, expect a surcharge of around $5 more, with a further tip expected on arrival. Expect to pay a little less from LaGuardia and a lot more from Newark. 
A standard taxi usually seats three people with luggage, so a shared cab is a wise move to spread the cost. Meanwhile, it's also worth making sure your cab is a legit NY taxi. Faux taxis operating illegally (often referred to as 'gypsy cabs') may be in operation, so be sure to avoid non-yellow taxis and make sure yours is a licensed yellow taxi before you get in. 
Private transfer 
Private transfers are ideal for those that want to travel in their own space and comfort or want to arrange their transfers prior to arriving Stateside. All you need to do once you arrive is give them a quick call and they'll pick you up outside the terminal. 
For a higher level of service, there's also the meet-and-greet option, where a chauffeur will be there to meet you in the arrivals hall. Simply give your flight details to the company ahead of time and they'll be there ready bearing a board with your name on – just like in the movies! 
For the premium private transfer, there's always the option to go full Hollywood. Limousine transfers allow you to arrive in style, with all the service that goes with it. What better way to start your trip? 
Train 
New York is famous for its public transport, and the subway is a popular way to get around NYC. From JFK, the AirTrain will take you to Howard Beach or Jamaica subway station for just $5, where you can change for the A or E line to Manhattan for a further $3 more. However, this is a lengthy journey that'll take you an hour and half, and isn't ideal if you're carrying luggage.  
Alternatively, the AirTrain will connect you to the train station where you can then ride to Manhattan's Penn Station, taking under 45 minutes overall. Newark is similar, in that you have to take the AirTrain to get to the train station, where you can then head on to Penn Station. This will cost around $13 altogether. 
The journey from LaGuardia differs slightly to JFK and Newark, requiring you to take the public bus to the subway on Roosevelt Avenue. While this is the cheapest option, it can be quite tricky to navigate, particularly if you're new to the area and – again – it's not ideal with luggage. 
Bus transfer 
If taxis and private transfers are little out of your price range, the NYC Airporter runs shuttle buses every half hour from JFK and every hour from La Guardia. Operating between the hours of 11:00 and 19:00, these stop off at Grand Central and Port Authority Bus Terminal in Manhattan – with no price difference in each. Better still, most of these buses are equipped with free WiFi and kids under three travel free of charge.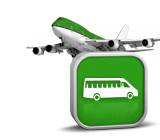 Shuttle bus 
Pre-booked shuttle buses take you right to wherever you're staying, costing around $20 from JFK, Newark or LaGuardia. Affordable and direct, this is a great alternative to the more expensive taxi and private transfer services, found conveniently outside the terminals of each airport (often in the area labelled 'ground transportation'). 
The one major drawback of this option is that the multiple drops en route do mean a longer journey time. Plus they typically only go up to 125th Street in Manhattan, so if you need to travel further, it's worth keeping that in mind. On the plus side, this service runs day and night and is typically easy to use. All you need to do is pre-book online ahead of time and print out your e-voucher to present when you climb aboard. 
By Martyn Grant