Compare quotes on transfers from Newark airport, na' mean?
Find your favourite way to start your vacay by comparing Newark airport transfers. Save those dollars for the Big Apple!
Key points
Private transfers from Newark airport to your New York hotel are the hassle-free way to enter NYC. You can book them in advance too. Compare now and see what you might save!
Hailing a taxi at Newark for a trip to New York is expensive. Consider pre-booking your transfers or catching public transport
You can catch the train to Newark Airport from Penn Station in Manhattan
New York's second airport is over the Hudson River in New Jersey. But only 16 miles separate Newark for Midtown Manhattan. If the traffic's OK then it can be the quickest way in, especially if you're staying in the west of Manhattan. 
Start your fairytale in New York with a quick airport transfer from Newark! Book now and beat the queues. 
The following info and prices were correct in summer 2018. 
Transfers from Newark Airport (EWR) - what are your options? 
Looking for the easiest route into New York? You'll always make it there, you'll make it anywhere, it's up to you, New York, Neeeeeew Yooooooork! Pre-book your private transfer from Newark Airport to Manhattan and head straight to your hotel. If you're feeling like Mr Big then hit the city in a limousine. But private transfers don't have to cost lots and you could book a car of a sensible length or a minibus if there's a few in your squad.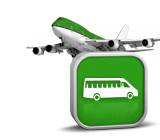 A shared shuttle bus can also mean a convenient start to your NY stay. Share a ride with some fellow travellers as it drops off at a couple of hotels. It takes a little longer than a private transfer, but is a little bit cheaper too. If a shuttle, limo or minibus sounds like your jam then book one before you go. Save time and money at the airport and get downtown in no time.  
New York taxis - transfers from Newark Airport to Times Square  
Thinking of jumping in a big yellow taxi? Well here's a word of warning. There's no flat rates from Newark. Also, it won't be an NYC cab. 
As you're taking turnpikes, bridges or the Holland Tunnel you'll be paying the tolls too. Expect to lay down around $50 to $70 for a taxi from EWR to Manhattan.   
How much is the train from Newark Airport to NYC? 
You can do it for $13. Take the AirTrain from the terminal to Newark Liberty Airport Station on the NJ Transit into Penn Station in Midtown. It should take around 25 minutes and costs about $13 – this includes the $5.50 for the AirTrain. 
Did you know...?
Newark is the oldest airport in the USA. It opened 1 October 1928.
You can also catch the AmTrak at Newark Liberty Airport Station, which serves more stations along the east coast, including Philadelphia. AmTrak also serves Manhattan but it costs more than the NJ Transit. 
FYI there's two Penn Stations on this line. One's in New Jersey, the other is in New York City. Jump off at the second one. 
And always keep your ticket with you so you don't end up paying twice for the AirTrain. 
How long is the Newark airport express bus? 
See also:
Flights to Newark
Flights to New York
Holidays to New York
Usually 45 minutes, but can be up to an hour. But it can get to two hours if traffic is very heavy, so factor this in if you're on a schedule. It terminates at the Grand Central Terminal and costs $17 one way.  
Is Uber at Newark Airport?  
Much to the ire of yellow cab drivers, you can grab an Uber at Newark to Manhattan. They won't be on the taxi ranks and Uber isn't mentioned on Newark airport's website. But it can be done. To do EWR to Times Square, an uberPOOL starts at $29 and an uberX is from $43.
Compare prices to find cheap transfers from Newark Liberty International Airport 
The City That Never Sleeps has ways to get to Newark at all hours of the day. Think about how you want to make the trip. How much luggage will you have? Do you know the best route to your hotel? Kids in tow? Can you take your time or are you on a schedule? 
If you're happy to navigate local public transport, catch the train or bus. Book a limo if you want to arrive in luxury. Part of a big group heading to NYC? Then a private transfer such as a minibus could work out cheaper per person. Shop around and compare prices to find your ideal Newark airport transfers. 
We out. 
By Sam Easterbrook