Don't waste a second of your holiday - compare Orlando airport transfers now!
Flying to The Sunshine State for your holiday this year? Don't get burnt by overpriced airport transfers... Get ahead of the game with GoCompare.
Key points
Booking up your airport transfers in advance prior to arriving in the US can save time, money and hassle once you reach your destination
While taxis are the first port of call for many travellers looking to get from A to B, they're often the most expensive option
Shared transport is a great way of reducing your outgoings and spreading the cost of your transport
Nicknamed 'The City Beautiful', Orlando is one of the most popular destinations in the state of Florida. As such, it's also home to one of the busiest airports in the US, Orlando International Airport (MCO). 
To make sure you breeze through the arrival process and aren't left hot and bothered by transport woes, read on for everything you need to know about Orlando airport transfers. 
All the following deets were correct in summer 2018. 
What kind of Orlando transfers are available at Orlando International? 
As the primary airport serving Orlando and the surrounding region, Orlando International Airport boasts a number of great transport links. 
These include the following: 
Taxi 
One of the most common options of airport transportation, the ever-popular taxi service will see you driven from door to door, in the comfort of your own privacy. However, this does come at a cost. 
All official taxis picking up at the airport are regulated by the City of Orlando's Vehicle-for-Hire authority, and will always use the meter to calculate your final fee. This can range from around $40 for trips to the Downtown area and up to $60+ for Disney Resort. 
Orlando taxis can carry up to nine passengers in total. They charge the same rate regardless of how many people are aboard - so the more that travel the better. These cabs can be found in the centre of the A and B sides of the arrivals level (level 2).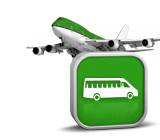 Private transfer 
Private transfer services also conduct pick-ups and drop-offs at Orlando's airports. If you're looking for affordable private transfers upon arrival, all Transportation Network Companies (such as Uber, Lyft and Wingz) can be found at the arrivals kerb on level 2. 
Meanwhile, for those looking to travel in style, limousines are also available for Orlando travel. These range from $50 to $90 an hour and, incredibly, work out as only marginally more expensive than a taxi, in some instances... Although it does depend on the distance and duration of your journey. 
Shuttle bus 
Stopping off at numerous hotels en route, shuttle buses are a convenient and hassle-free mode of transport for arriving passengers. Best of all, some hotels even offer complimentary shuttle transfers as part of your stay. 
For Orlando International, this is located on the B-Side of the terminal on the ground transportation level (level 1) at Commercial Lane. 
Bus transfer 
If your hotel doesn't happen to offer a shuttle service or you prefer taking a more local approach to your transport, there are ample options on offer from the Orlando bus service. 
For Orlando International, this can also be found on the A-Side of the terminal at ground transportation level, once again at Commercial Lane. Trips to Downtown Orlando will take approximately 40 minutes via the Lynx #11 bus of the Lynx #51 service, costing between $2 and $4 depending on where you're heading.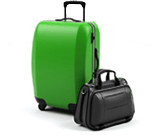 Train 
The Greater Orlando area is well connected by the SunRail train service that operates Monday to Friday, from 5:30am to 21:30 at night. One-way tickets cost between $2 to $4, depending on the counties/zones travelled. 
For those looking to travel via train, the SunRail is accessible via the bus link to the Sand Lake Road station. Simply follow the bus directions above for the location of the bus link and be sure to hop off at Sand Lake Road. 
Car hire 
If all else fails, hiring a car and hitting the road yourself could be a great outside-the-box solution to your travel woes. 
Multiple return journeys to resorts and theme parks can rack up a hefty bill for daily taxi rides. If you plan on doing a lot of travelling during your stay, a hire car could work out as an economical solution overall. 
Orlando International offers a variety of rental cars, with international brands like Hertz, Enterprise and Avis. Rates will vary depending on duration of the rental and make/model of the car, but it's a worthy alternative if you don't mind driving while you're away. 
Orlando Sanford airport transfers 
Unlike Orlando International Airport, transport links from Orlando Sanford Airport (SFB) pale in comparison to their larger competition. As such, options are somewhat limited when you touch down on the Orlando Sanford tarmac. 
While taxi services can be easily located in the ground transportation area of the terminal, there are sadly no direct bus or rail links to be found. As such, taxi alternatives are restricted to private shuttle companies and relevant hotel shuttle services. 
Luckily, a number of hotels in the region offer complimentary shuttles as part of your stay, while private shuttles can be booked up easily online prior to your arrival. Orlando Sanford's official website has over 80 private hire companies listed on its site, complete with web links and email addresses.† Once you arrive, your shuttle can be easily located outside the arrivals terminal. 
Meanwhile, Orlando Sanford offer similar car rental options to Orlando International, should you opt to get behind the wheel. Once again, this includes a number of name brands and the 'holy trinity' of international car hire – Hertz, Enterprise and Avis – are once again on hand, should you seek a recognisable, trusted logo. 
How to save money on Orlando airport transfers 
As is often the case with holidays – from flights to hotels – the price of airport transfers can be reduced if you book up early and secure your place ahead of time. Advanced bookings are often cheaper than spontaneous journeys.
Meanwhile, shared transfers can also be a real money saver. If you're travelling alone or with a small group, splitting the cost is a smart move and buddying up for a taxi ride or mini bus makes logical sense if you're heading in the same direction. 
Similarly, if you're travelling in a large group, it could work out cheaper to book a private mini bus. Obviously, this only applies if your hotel isn't offering a complimentary shuttle service, but it's a useful bit of knowledge to have, just in case. 
And, as ever, see if you could save a bit of money or get some mega-convenient transit by comparing airport transfers! 
By Martyn Grant