Do you need Paphos airport transfers?
How are you planning to get to and from Paphos Airport? Compare Paphos airport transfers to see if it could work for you.
Key points
Paphos Airport is located four miles away from Paphos city, and is home to five car rental companies, including Hertz and Sixt, and has a taxi rank right outside the terminal building
Public transport is limited at Paphos Airport, with no train routes, and regular but limited bus routes. You can get shared shuttle transfers to and from Paphos Airport, and there's even 'speedy shuttle transfers'
If you want your Paphos airport transfers to make you feel like a celeb, you can opt for luxury private transfers, or save a bit of money by going for standard private transfers
Not sure what your options are when it comes to getting Paphos airport transfers? Well, we've had a search around and found some of the ways you can get between your Cyprian destination and Paphos International Airport (PFO). 
The following deets were all correct in summer 2018. 
Airport transfers in Paphos 
Paphos Airport can be found about four miles away from the city of Paphos, and it's Cyrpus' second-largest airport, after Larnaca International.  
Hermes Airports Limited took over Larnaca and Paphos airports in 2006 for a period of 25 years. Paphos Airport has 28 check-in desks, seven gates, 22 stands and a few shops and cafes.  
When it comes to getting to and from the airport, there's a range of options to choose from, like shuttle transfers, taxis and a limited choice of public transport.  
Shuttle transfers 
A shared shuttle transfers is usually the most cost-effective type of airport transfer. You and a few other passengers will be picked up at the airport in Paphos and taken to your respective hotels via coach.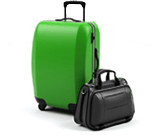 The downside to this type of Paphos airport transfer is that you'll only have a rough idea how long it'll take for you to be dropped off at your hotel, as it depends on the number of drop-offs that are before your stop.  
If you're first in the queue, you can chuckle smugly all the way to your hotel.  
For a speedier trip, you can get a shuttle airport transfer that only makes a maximum of four stops, but it will probably cost more than a normal shuttle transfer.  
Private transfers 
For a more personal service, you can get private Paphos airport transfers.  
Your driver will wait for you in the arrivals hall with an important-looking sign with your name on it and you'll then be taken straight to your chosen drop-off location.  
When the worst day of the holiday comes around (having to go home), your driver will pick you up and take you straight to the airport.  
If you want to feel like a VIP, you can get your private transfers in a fancy car – like a Mercedes – but you'll have to pay a bit extra for the luxury treatment.    
Paphos airport taxi transfers and public transport 
There's a designated taxi service at Paphos Airport, and you can get a cab from the taxi rank outside the terminal building.  
There aren't any trains with routes to Paphos Airport, but there's a regular bus service between central Paphos and the bus depot outside the main terminal building.  
Car rentals at Paphos Airport  
Car rentals can be found in the arrivals hall, after exiting baggage reclaim. There are five car rental companies at Paphos Airport:  
Avis 
Hertz 
Europcar 
Sixt 
Astra/Petsas  
Renting a car might be a suitable option for you if you want the freedom to drive around Paphos, and other areas of Cyprus yourself, instead of relying on public transport and taxis.  
Just remember to allow for enough time to return the car to the rental company before your flight home, and make yourself aware of Cyprus' driving laws.  
By Amy Smith