Find airport transfers in Prague with GoCompare
Get into Prague quickly and easily with our help. We can help you find an airport transfer that suits your needs and budget.
Key points
You can get a bus or a taxi into the city pretty cheaply
There's no direct train service to the airport
If you want to, you could hire a car for complete independence
Prague Airport is seven miles from the city centre, so you'll need a good airport transfer when you land. We can help you compare your options, and might just save you money, time and hassle on getting out of the airport. 
The following info and prices were correct in summer 2018. 
Airport transfers to Prague
Flying to Prague's Vaclav Havel Airport (PRG) from London takes about two hours, and a single flight out there could cost as little as £80. But it can be a proper headache to make the final hop if you find yourself without a transfer from the airport. 
Prague airport bus transfers 
There are several companies operating regular bus services from the airport. RegioJet offers its services for roughly 65 Czech Koruna for each trip. This may sound like a lot, but in July 2018, this equated to roughly £2.20, so it might just be less expensive a journey than it seems.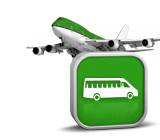 Buses take about half an hour to get from the airport into the city centre. If RegioJet is unavailable, you may be lucky with Flixbus.   
Both bus services operate from their stalls in terminal 1. 
Prague airport taxi transfers 
There are two taxi companies who operate services out of Prague Airport, located at both terminals: Fix Taxi and Taxi Praha.  
Fix Taxi offers its services at 40 Czech Koruna for boarding, and a further 28 per kilometre. Fix Taxi also states it won't charge extra for luggage, nor for waiting if your flight is late. Certainly worth Czech-ing out! 
Taxi Praha is comparable in terms of price. However, it does also offer a discount for corporate clients, which is good news for anyone off to a business conference in the city. 
Other cheap airport transfer options from Prague 
There's no train service direct from the airport. However, you can get a shuttle bus to and from the Prague main railway station – Praha hlavní nádraží – from which you can access the rest of the Czech Republic. A ticket might be around 60 Czech Koruna for adults. 
If you wanted complete freedom across your holiday, you could hire a car from the airport. Several companies have offices on-site, including usual suspects Hertz, Enterprise and Europcar, as well as Dvorak Rent a Car. This might be a more expensive option, however. As ever, compare before you commit. 
Top tips for Prague airport transfers 
Getting into the city of Prague shouldn't break the bank. For the most stress-free introduction to the city, why not compare airport transfers in advance? Once you've crossed that off your list, we hope you enjoy your trip! 
By Nick Dunn