Compare quotes on transfers from San Francisco airport and hit the Bay Area in style
Save time and money at SFO by booking your airport transfers in San Francisco before you go. Compare prices to start your vacay the right way!
Key points
Pre-booking a private transfer from SFO to your hotel in San Francisco is the most convenient way to arrive in the city. Especially as it's an 11-hour flight from the UK. Ease your jet lag with a car straight to your accommodation. Compare prices before you go and save those dollars.
Jumping in a taxi can be pricey – the fare between the airport and San Francisco is usually over $50.
You can use BART, San Francisco's public transport network, to get between the airport and downtown. It takes around 30 minutes.
"The morning fog may chill the air, I don't care 
My love waits there in San Francisco"... but how are you making it there from the airport? 
How far is the San Francisco airport from the city? 
Only 13 miles separate SFO from downtown Frisco. Highway 101 connects the two as does BART. How you make the trip is up to you, your budget and your group size. 
All the following deets and prices were correct in summer 2018. 
Transfers from San Francisco airport - what's available?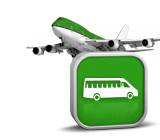 If you're looking for the simplest way to get to the Bay, pre-book your airport transfers before you go. Unfamiliar with the public transport system? Coming with a lot of luggage? Or just want to hit downtown in style? Then head straight to your hotel with a private or shared airport transfer.  
A private transfer can be a limo, executive car or people carrier. Be whisked from departures to your accommodation in Union Square, Fisherman's Wharf or elsewhere in San Francisco. It might sound pricey, and limos certainly can be, but if there's a few people in your squad then it can be cheaper per head than other methods. A shared airport transfer can also be a money saver. This is usually a minibus or coach that takes tourists to a few hotels on a set route.  
Save time and money at the airport by booking your San Francisco airport transfers before you go. Shop around and compare prices to find a great deal for you and your crew. If you're happy to wing it then there's always taxis, trains and buses too. 
How much is a taxi from San Francisco airport to downtown? 
Expect to pay about $50 plus tip for the ride from SFO to downtown San Francisco. Union Square and Nob Hill can be a little less, while Fisherman's Wharf and the Marina may be more like $60.  
Is Uber available at San Francisco airport? 
You can request an Uber at SFO and the airport surcharge will automatically be added to your bill. An Uber to downtown San Francisco from the airport starts from $25 and prices will be affected by traffic, availability and time of day. 
What's BART, and can I use it to get to and from San Francisco airport?  
Barclay... Barry... Bert... Bort? No BART, which stands for Bay Area Rapid Transit. It's San Francisco's public transport system and it connects the airport to downtown San Francisco and Oakland. It runs up to four times an hour and the ride takes 30 minutes to Frisco.  
Compare prices to find cheap transfers from San Francisco International Airport 
The second busiest airport in California is well connected to San Francisco and the wider Bay Area. You have lots of options for San Francisco airport transfers at all hours of the day. Think about how you want to make it downtown. Are you travelling in a group? Will you have lots of luggage? Do you fancy jumping on a train after an 11-hour flight? Search, compare, and see what you might save on airport transfers in San Francisco. 
By Sam Easterbrook