Compare airport transfers for Stansted
Make it easier to take a journey out of The Big Smoke – or get into the city quicker – with airport transfers to and from Stansted.
Key points
The quickest method of getting to Stansted is most likely the Stansted Express
There are several other options for getting to the airport, including bus, taxi, and bicycle, bicycle, bicycle
You could stay in a hotel nearby and get an airport shuttle bus from door to door
If you'd rather avoid paying for a car parking space, make life easier with an airport transfer. We can help you compare the variety of options to make sure you get into and out of London Stansted Airport (STN) with less hassle and more savings. 
The following info and prices were correct in summer 2018. 
Transfers to Stansted Airport 
Getting to the airport is a simple matter of picking the right option. You can take the bus, the train, a taxi – you can even forget all your duties and ride your bicycle. 
Yes, you can ride your bicycle (where you like) and drop it off for free in the bike storage in the Red Zone of the short-stay car park. Taking it on the plane may be expensive, however. 
Planes, trains… 
If you're in London, the quickest way to get to Stansted is probably to get the Stansted Express, with tickets available from upwards of £7 per person.  
You can also get a train directly to Stansted from most major train stations in the UK, with tickets varying in price depending on which operator you go with and where you depart from. 
If you're getting the train, the station is about two minutes' walk from the terminal, so it's quite convenient for those who need to get into London for a business conference, or if you haven't got much luggage to drag around.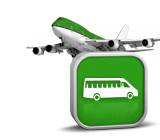 … and automobiles 
If you're coming back to the UK, you may wish to hire a car to get out of the airport. You'll find all the usual suspects, such as Hertz, Avis, Europcar or Enterprise. 
In the opposite direction, you could drive to Stansted Airport, but it's much more fun to be driven there. You can pack your bags into the back of a taxi, sit back, and relax as they drive you to your destination. 
If you're heading home after getting off the plane, Stansted offers its own recommended taxi provider – 24x7 Taxis – which has a reservation desk within the arrivals concourse. You can also nip out of the terminal and hop into the taxi rank, but this could lead to a higher fare than you might get if you pre-book one. 
Alternatively, Stansted Airport works with cab-comparison company Minicabit, which provides quotes from a variety of local taxis. You can then select the right one for your needs and budget and get to the airport without a fuss.  
If you're further out, you may be able to use an Uber instead, though this could be more expensive than getting a cab with Minicabit.  
On the buses 
Getting a bus can be a long wait for three to turn up at once. This is not the case for Stansted Airport. Not only does National Express operate a direct service between the airport and most major cities, but you can also use Looking4Transfers to find a good price from a variety of coach operators.  
The price will vary depending on how far ahead you book your ticket, and on where in the UK you're coming from. Book well in advance to get the cheaper coach seats. Then, when the coach pulls up into the airport, the coach station is opposite the terminal for a quick hop between the two.  
Hotels near Stansted Airport with transfers 
There are several hotels within ten minutes of Stansted Airport if you're in need of a quick forty winks before an early morning flight. The Radisson Blu is just a few minutes away from the central terminal, or a two-minute walk from the arrivals area of the Stansted Express. 
A shuttle bus service operates between the airport train station and both the Holiday Inn and Novotel hotels. You can also get one to the De Salis Hotel, which is around two miles from the airport, and the Premier Inn Hotel is about 15 minutes away by bus.  
Tips for a cheap airport transfer 
Book your transfer well in advance and you'll almost certainly benefit from cheaper prices, but we can help compare the options available so that you can find the right one for you.  
By Nick Dunn