Do you need Swindon airport transfers?
Compare Swindon airport transfers to see if we could save you time and money!
Key points
Swindon doesn't have its own international airport, so your nearest options are Bristol, Heathrow, Birmingham, and other London airports such as Gatwick
Shuttle transfers are available between Swindon and its nearby airports, but the journey times vary massively, depending on the number of stops and traffic
Private transfers can be pricey and public transport inconvenient, but compare all your Swindon airport transfer options to see what could work best for you
Ah, holidays – that time of year that we all eagerly anticipate, before it's over all too soon, and we have to wait another year for the next one. 
If you're planning your next trip and it involves travelling to or from Swindon, then you'll need airport transfers. Unless you plan to drive, in which case: what are you doing reading about Swindon airport transfers?!  
Anyway, Swindon doesn't have its own international airport, so it's worth comparing airport transfers for the closest airports to see what your options are.  
Airport transfers from Swindon to Bristol 
Bristol is the nearest international airport to Swindon, at around 47 miles away.  
You could get a shuttle transfer between Swindon and Bristol Airport, but – while this might be cheap – it could take a long time as the coach will likely stop off in other areas to pick up the rest of its passengers.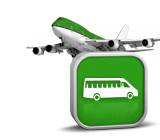 If you didn't want to share your transport, you could opt for a taxi or private transfer, but this could get expensive.  
There is a train route between Swindon and Bristol Temple Meads, where you can catch a bus to Bristol Airport, which takes around an hour and 40 minutes all told.  
Swindon to Heathrow airport transfers 
Like with Bristol Airport, shuttle transfers are available between Swindon and Heathrow, but there are limited times and there could be multiple drop offs, so you'd have to make sure your shuttle transfer leaves you enough time to check in for your flights.  
For taxi or private Swindon transfers, your driver will drop you off outside the departures hall or meet you in arrivals on your way back. Private transfers may be quicker than getting a coach, but they're pricey.  
In terms of public transport between Heathrow and Swindon, you could catch a train from Swindon to Paddington Station, and then hop on the Heathrow Express to take you to the airport. If you've got time and want to save a bit of cash, you can also get the tube to Heathrow on the Piccadilly line. 
Airport transfers between Swindon and Birmingham 
There's a coach park at Birmingham Airport, which is where you'd be picked up and dropped off on your airport shuttle transfer. Shuttle transfers between Swindon and Birmingham Airport can take anywhere between four and six hours, depending on the number of stops and traffic.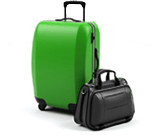 Private transfers are available from outside the terminal but, as Birmingham Airport is about 89 miles away from Swindon, it'd probably be expensive!  
Birmingham Airport is connected to Birmingham International Station by a two-minute train trip, and you can get a train between Birmingham International Station and Swindon in about two hours 40 minutes.  
Gatwick and Swindon airport transfers 
Like with Heathrow Airport, you can get coach shuttle transfers between Swindon and Gatwick, which take around two hours.  
See also:
Heathrow airport transfers
Private transfers are also available, but costs are high. Public transport might be worth considering, as there are trains between Swindon and Reading, and Reading to Gatwick Airport.  
Travelling at off-peak times is a lot cheaper, so consider arriving at the airport early and waiting around a bit longer (not so bad if the amenities are good!), or see if it would be worth booking yourself into a budget hotel for a night.  
No matter what airport you're planning to use, we'd suggest booking your Swindon airport transfers in advance as it could save you money and ensure that you're not stuck without transport.  
Double-check routes and travel advice for your dates before you book so you're not caught out by unexpected road closures or delays.  
By Amy Smith