How d'you get from A(irport) to B in Australia? Sydney airport transfers of course!
We know you're eager to explore Sydney, but first you need to check in to your hotel, drop off your bags and maybe freshen up or have a nap. Get from the airport to your hotel easily with Sydney airport transfers.
Key points
You can get shared or private Sydney airport transfers, depending on whether you'd rather speed or price. Public transport is also worth looking at, to see if it could be cheaper than transfers
Compare all your Sydney airport transfer options so you can find the best balance between price and convenience
If you want to be able to move freely around Sydney, consider hiring a car so you can drive yourself to and from the airport
While some airports are pretty amazing places to explore, like mini-cities with a range of shops, eateries and facilities, it wouldn't be much of a trip if you stayed there the whole time.  
Unless you're hiring a car, you'll need a way to get to and from the airport, so we're going to take a look at Sydney airport transfers, to see if we can help you get a bargain.  
How can you get cheap airport transfers in Sydney? 
Our first suggestion on getting cheap Sydney airport transfers would be to compare all your options to find what works best for you.  
Check the prices of public transport and transfer companies before you book, to see what's cheapest. 
If you're looking to hire a car in Sydney, book early and work out what add-ons you need (if any) to avoid spending on things you can do without. 
Booking your airport transfers in advance could save you being stuck in the airport waiting for a taxi or a bus to arrive, while crowded together with a few hundred other passengers.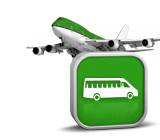 Sydney taxi transfers 
There are taxi ranks in front of all the terminals at Sydney Airport (SYD). And it's likely that Western Sydney Airport (SWZ – scheduled to open in 2026) will also have good taxi access to match Sydney's main airport.  
If you don't want to pick up a taxi on the day of arrival, you can also pre-book taxis before you fly.  
Taxi drivers aren't supposed to pick up passengers from anywhere other than the taxi rank, and they can face hefty fines if they break the rules. Strewth! 
Sydney shuttle transfers 
Shuttle transfers are a shared method of travelling between the airport and various Sydney hotels and popular drop-offs by coach. 
This type of airport transfer tends to be cheaper than a private or taxi transfer because you're splitting the cost between yourself and the other passengers.  
Shuttle transfers are available between Sydney airport and destinations like the city centre, Sydney cruise terminal and Sydney harbour.  
Shuttle transfers stop off at various places, so unless your stop is first (result!), the number of stops – and therefore the journey time – will vary.  
Private car airport transfers are also available if you don't fancy sharing the journey, but they'll probably be more expensive than a shuttle transfer.  
Luxury airport transfers in Sydney 
Want to arrive at your Sydney hotel in style? Get limousine or luxury car transfers! 
Most luxury airport transfer services include a meet and greet, where you'll be met in arrivals by your driver, who will then escort you to the limo/fancy car.  
Public transport and Sydney airport transfers 
Sydney Airport has a few public transport options for you to use.  
There's lots of bus routes between the airport and popular drop-off points like route 400, which goes between Sydney Airport, Bondi Junction and Burwood, and has plenty of stops in-between.  
Did you know...?
The Sydney funnel-web spider is one of the most dangerous spiders on earth. Its fangs are strong enough to bite through gloves and fingernails. Enjoy your trip to Sydney!
Trains run between the airport train station and Sydney city centre every 10 minutes, so this could be a convenient way to travel. You'll need to buy an Opal Card to use the buses and trains in Sydney.   
Don't have much luggage and want to enjoy the Australian weather? Well you can cycle to and from the airport, and there are bike racks near the international terminal. We wouldn't recommend trying this with a huge suitcase though, unless you could find a way to tug it behind you!  
Car hire in Sydney 
If you fancy taking the wheel, you could hire a car for your time in Sydney. This option can be handy if you want to explore Sydney on your own terms. Plus they drive on the left down under, so you may feel right at home. But car hire can get expensive, so compare car hire companies to find one that suits your needs and budget best! 
By Amy Smith