Find out more about home assistance as part of breakdown cover and why you might need it to help get you, and keep you, on the road.
Key points
Home assistance isn't included as standard on all breakdown policies but, if not, you should be able to buy it as an optional extra
Can help you if your vehicle fails at your home address or within a set distance of it
If the car can't be fixed you should be covered for its transportation to a garage for repair
Home assistance provides breakdown cover in the event of your vehicle failing at your home address or within a set distance of it.
This is often within a quarter of a mile, but policies will vary.
If you search through Gocompare.com, note that a policy not offering home start could exclude you if you're within up to a mile of your home address.
Home assistance does not typically come as part of standard breakdown cover so, unlike roadside assistance or local recovery, you shouldn't automatically expect it to be included as part of a breakdown cover policy purchased through Gocompare.com.
It can, though, be added as an optional extra.
Different breakdown companies have their own definitions for the levels of cover they offer, so it's important to check that what you think you're buying is actually what you're getting by reading your policy.
Why do I need home assistance?
Something as simple as a flat battery can leave you stranded in any car, new or old, so being able to call on home assistance could quickly get your motor up and running again.
You may feel comfortable that you can get your vehicle going with a set of jump leads or a push and jump start, but what if you don't know what the problem is, or it's something more serious?
With a home assistance policy your breakdown service will try to fix your motor at the doorstep and - if that's not possible - will be able to transport your vehicle to a garage for repairs.
You should also consider what would happen if you were unfortunate enough to break down within a short distance of your house when you're returning home.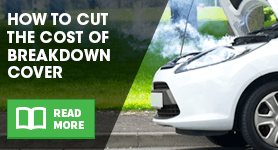 "If you don't add home assistance to your breakdown cover policy and can't start your car, you may be forced to pay the stress price for any call outs," said motoring insurance expert Scott Kelly.
"Even if you can get your car started, if you break down within a quarter of a mile of your home you won't be able to receive roadside cover - this may mean you won't be able to get to work or get your car home without paying a hefty sum."
Having home assistance can be invaluable at any time of the year, but more call-outs tend to happen in the winter when cold, wet and icy weather can play havoc with batteries and other components. Read our guide to winter driving for help in preparing your vehicle for this difficult season.
How do I get home assistance?
When you enter Gocompare.com's breakdown quote process you'll be asked the age of your car and then you'll have the option to choose any additional features you require on the policies you compare, including home start.
By Emily Bater
[SeanSocialShare]