If your car can't be fixed at the roadside, having an onward travel option on your breakdown cover could help you get where you need to be.
Key points
Onward travel can help you continue your trip if your vehicle can't be fixed after a breakdown
It's unlikely to be a standard feature on policies but should be available for an extra fee
Policy details may vary and could, for example, offer a hire car or the reimbursement of additional travel costs you incur
All policies will differ so check for limits and exclusions
As part of your breakdown cover you may have selected or received an onward travel option, which helps you continue on your journey if your car cannot be fixed at the roadside.
Onward travel may mean car hire, reimbursement for travel costs, accommodation or special medical assistance - read your policy's terms and conditions for the exact details.
Most standard breakdown policies don't include onward travel as part of their cover, so it's important to check when buying a policy what is and isn't included.
Why might I need onward travel?
If you've been attended by technicians at the side of the road or at home and they aren't able to repair your car, you'll still need a way to continue on your journey.
That may be to work or further afield if you're on holiday, but unless you have access to another vehicle you'll need an alternative means of transport while yours is being repaired.
If you have onward travel cover, replacement car hire is usually offered for a few days, but you should check the sort of vehicle you can expect to be given and there are restrictions on the driving of rental cars.
Your cover provider may also offer reimbursement for rail, air, or other public transport costs, usually subject to cost limits and to restrictions on the number of people who may be transported.
Be aware also of possible exclusions on things like toll charges and ferry costs, both for the vehicle being recovered and for passengers.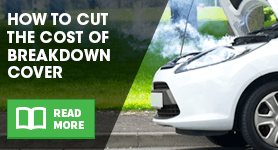 If you're stranded away from home hotel accommodation may be provided, but again it's always best to check your policy and to see how many people are provided for, and how many nights you're permitted.
The distance away from home necessary to qualify for onward travel varies between providers - a quarter of a mile is a common requirement, but check the small print.
How do I get onward travel?
When you enter Gocompare.com's breakdown quote process you'll be asked the age of your vehicle and then you'll have the option to add different features to your quote, including onward travel.
"Onward travel is generally only included as an addition to standard cover and is not automatically added to a basic product," said motoring insurance expert Scott Kelly.
"If you're on a trip and don't have onward travel you could be stuck on your way to your destination, so if you need it you must ensure you select it and then check your policy booklet."
By Emily Bater
[SeanSocialShare]