Roadside recovery is the essential element of breakdown cover - find out more about why you could be left stranded without it.
Key points
All breakdown policies should include roadside assistance, but don't assume you have vehicle recovery if the car can't be fixed there
You're likely to need home assistance for a breakdown at home or within a quarter of a mile of it
Read your policy to see what you are and aren't covered for
All breakdown cover policies include roadside assistance.
This most basic level of cover ensures that if you break down over a quarter of a mile from your home your breakdown provider will send someone to assist you at the roadside.
Policies typically include up to 60 minutes of free labour, but the cost of replacement parts is not included unless your provider states otherwise.
If your vehicle cannot be fixed at the side of the road, you're likely to want it to be towed to the nearest garage or your home.
For this you need vehicle recovery to be included on your policy.
Different breakdown companies have their own definitions for the levels of cover they offer, so it's important to check that what you think you're buying is actually what you're getting.
Standard breakdown cover policies will usually include both roadside assistance and vehicle recovery, but some pay and claim policies may only offer the former.
Every policy you compare through Gocompare.com will offer both roadside assistance and local recovery.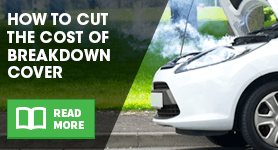 Why do I need roadside assistance?
In 2012 the RAC says it attended over 500,000 "extreme" breakdowns, illustrating why it's important to make sure you're fully prepared when setting off on any journey.
Many breakdowns occur in winter - the RAC says it attended 100,000 recoveries in just 11 days during winter 2012-13. Make sure you're prepared for inclement weather by reading our winter driving guide.
Keep blankets, sugary foods and a torch stored in the car. Even the most reliable breakdown service can sometimes take a while to reach you.
Tyre trouble
Make sure you know how to change a tyre and have all the equipment to do so. If you don't think you're up to replacing a blow-out on your vehicle, you should check that your policy covers wheel changes.
Remember...
If you've got locking wheel nuts you'll need a key in order to change the tyre
To get help from your provider, remember that you'll typically need a serviceable and accessible spare tyre, plus a key to remove any locking wheel nuts.
According to the RAC, in the period from August 2012 to August 2013 it responded to 120,000 breakdowns involving a puncture on a vehicle with no spare tyre - a 50% increase in such incidents when compared to the previous year.
Many new cars don't include a spare tyre as standard - if they don't, they will include tyre repair kits. These may be daunting to use at the side of the road, but they could provide a temporary reprieve until you can reach a garage or home.
What exclusions should I look out for?
All policies differ and - as always with insurance - you should read your terms and conditions carefully to ensure you have the appropriate level of cover.
Some typical exclusions to be aware of when considering roadside assistance include:
Faults due to human error eg lights left on, lost keys, running out of fuel, adding the wrong fuel
Limited number of call-outs in a policy's duration
Delays from the inception/purchase of a policy to when cover starts
Weight limits on your vehicle
How do I find the right policy?
"When taking out breakdown cover, it's all about not being caught out," said motoring insurance expert Scott Kelly.
"Having it gives you peace of mind that you'll never be stranded on the side of the road, not knowing what to do next.
"Using a comparison website will help you find the most competitive price for the cover you need."
By Emily Bater
[SeanSocialShare]