Key points
BT provides the cheapest broadband option for people on certain benefits
Some networks let you link your laptop or tablet up to your phone so you can get online without using home broadband
There are millions of free public wi-fi spots in the UK
 
Our reliance on the internet continues to grow everyday, whether it's doing the weekly shop, watching a film or talking to relatives on the other side of the world.
What was once a luxury has become a necessity. And not always a cheap one. Home broadband can cost upwards of £200 per year, and if you're one of the 20 million people in the UK who receive benefits[2], you may not have that kind of money to spend.
BT Basic + Broadband
If you're on benefits, and looking for a low-cost internet option, then you should take a look at BT's Basic + Broadband service.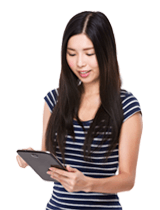 If you receive:
Income support
Income based Jobseeker's allowance (JSA)
Guaranteed pensions credit
Income based Employment and Support Allowance
Universal Credit, with zero earnings
You may be able to sign up for this package, which costs £9.95 a month for a phone line and broadband.[3]
There are no installation charges either, you just have to pay for delivery of the router.
You only get 12GB of data though; after that, you'll be charged £1.80 for each extra GB you use. Watching an HD movie on Netflix can use up to 3GB an hour, so you'll have to keep an eye on your data usage to stay within your monthly limit.
Other broadband deals
BT isn't your only option. There are numerous companies in the broadband market competing for your business, which means you may be able to pick up a package for a relatively low cost.
Broadband and landline contracts
If you get yourself onto a comparison site (well we would say that wouldn't we?), you'll find some really good deals on broadband.
You may be able to pick up an unlimited usage package for under £20, which means you can browse the internet or watch as many HD films as your eyes can take.
Credit history
Some broadband providers will do a credit check as part of the application process. If your credit history isn't in the best of shape, you can still get a broadband contract, but it might cost you a bit more.
Not sure what your credit score is? Sites like Noddle and Experian allow you to check for free.
No contract broadband
Alternatively, you can opt for 'no contract' broadband, where you're not tied in to a minimum term. You just pay each month and can cancel at any time.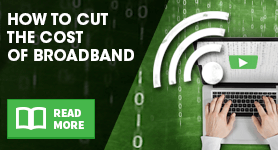 A word of warning though, this type of package can come with hefty set up fees. Check the small print so you don't get any nasty surprises.
Alternatives to home broadband
Home broadband might be common, but it's not the only way you can get online. Free wi-fi is available in many places, and your mobile phone contract may provide a source of online access.
Use your mobile
If you've got a mobile phone contract with unlimited data, or a big data limit, you could use your smartphone to access the internet, rather than enter into a broadband contract.
You could potentially save money by ditching your landline as well if you've got unlimited calls included in your mobile phone package.
Your local library
Not only will your local library have computers you can use with free internet access, they should also have free wi-fi available if you take your own device down there.
You'll usually be able to print and scan documents too, although there's likely to be a small charge for using these facilities.
Free public wi-fi spots
Free wi-fi spots are popping up all over the country. In cafes, on trains, in shopping centres. Pretty much anywhere you go you'll be able to find somewhere with free internet access.
Some major cities like London and Manchester have started to provide public, city-wide wi-fi, which is great news.
You'll have to hand over some details to get access though, and maybe suffer a marketing email or two, but you can easily unsubscribe to them and still enjoy the benefits of getting online for free.
There are a number of apps you can download to help you find a free wi-fi spot too.
Tether your mobile
If you've got all you can eat data with your mobile phone contract, you may be able to link your laptop or tablet to your phone (known as tethering), and get online that way.
It's not the best option if you only have limited data, or use pay as you go, as the data you use to link your device to your phone is deducted from your monthly allowance.
By Kath Denton
[SeanSocialShare]