Cyber Security
Staying safe from online scams
Staying safe online is increasingly important in our digital world. What worries do we hold about our nearest and dearest navigating the internet, and what help is available to protect us against scammers?
Scammers steal millions of pounds from people each year through fraud. Today, online offences make up a larger proportion than offline, and unfortunately, this type of crime doesn't appear to be decreasing. Cyber offences totalled a huge 61% of all fraud incidents in the year ending March 2022, having increased from 58% a year prior in 2021 and 54% in 2018[1].
Common schemes include fake shopping websites, email banking or HMRC scams. Some can even play on our heartstrings, through disaster relief cons. Fraudulent activity also moves with the times, and in recent years we've seen the arrival of new types of scams, including cryptocurrency and Covid-19-related cons.
With so much to watch out for, how can internet users stay safe online? We asked for your thoughts on cyber fraud and how you feel about your family and friends' online security. Who do you worry about the most when it comes to scams, and could more be done to help people avoid them?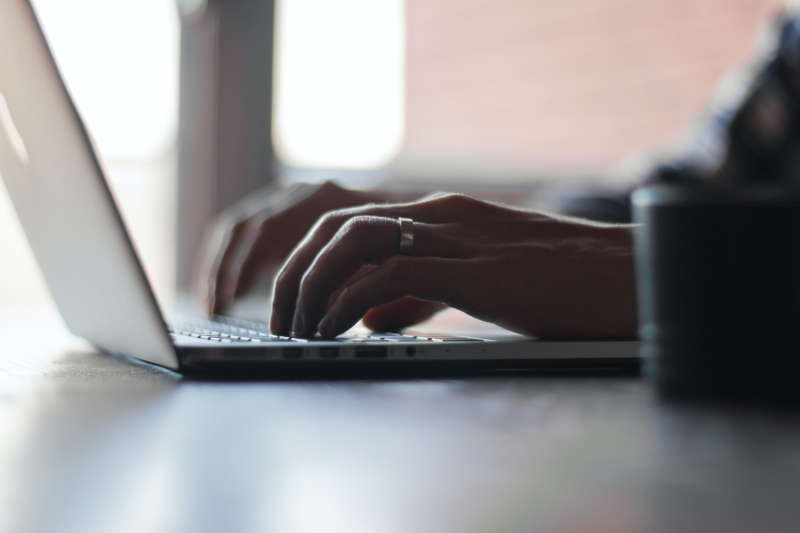 Should internet users worry about online scams?
Our latest research has found that around one in 20 UK residents may have been scammed online in 2022 alone[2]. According to our poll of 2,000 people, 5.7% said they had been a victim, equating to more than 100 individuals.
Gender and age appeared to play some role in this. More women than men were scammed last year, with 61% of victims being female. Meanwhile, a third were aged between 40 and 54 years old – the highest percentage of all age groups. A quarter (27%) were aged 55 or over, and 24% were 25 to 39 years old. Young people aged 18 to 24 accounted for the lowest percentage of those scammed in 2022 at just 16%.
Brits are concerned about older generations and internet fraud
Overall, more than two-thirds (68%) of survey respondents said they felt worried about their friends or family being scammed online.
The nation was most concerned about those older than them. In fact, 41% said they're most worried about their parents falling victim to internet fraud, while a further 19% were more concerned about their grandparents than any other group. This may be because older generations account for a large percentage of online scam victims.
In contrast, just 11% claimed to be most concerned about their friends avoiding scammers. Rather, many more people have worries about their kids staying safe online. Our children are the second-highest group we fret about the most.
One in three parents is most worried about their kids being scammed online
More than a third (34%) of parents and guardians felt most worried about their kids being scammed online compared to any other group of friends or relatives. This figure actually rose to 43% among parents or guardians of children aged 18 or over, showing that we still worry about our kids as they grow up.
Meanwhile, just one in five (21%) parents of children younger than 18 are most concerned about their kids falling victim to internet fraud. Younger children may spend less time online and many don't have access to potentially risky websites or apps.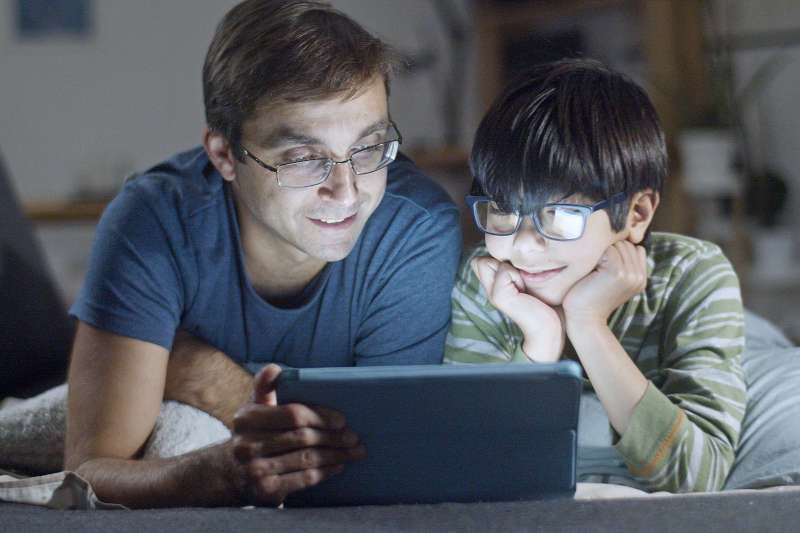 Keeping kids safe online is something that parents and grandparents can have some control over. Employing these simple tips can help your peace of mind over your child's safety:
Consider using tools that help you manage and monitor internet access
Make use of parental and privacy controls - check the privacy settings on frequently used websites and adjust parental controls to suit your family
Talk to your kids about online safety, and ask them questions about what they do on the internet and which websites they visit
Discuss strangers - ensure your child knows what to share with people they've only met online and what to do if someone they don't know contacts them
Look into broadband providers that offer security and safety features, such as content filters and time access restrictions.
Are romance scams at the heart of the problem?
Users who regularly visit dating apps or websites were the most likely to have been a victim of cyber fraud in 2022, according to our research. More than one in four (28%) people who use these sites at least once a week fell victim to an online scam last year – many more than consistent users of any other type of website or app.
This includes regular users of both social media apps (5.3%) and e-commerce websites (4.2%). Although they only make up a small portion of cases, dating scams pose as much of a threat, with fraudsters using highly emotive language to trick victims into parting with their money.
There were 8,598 reports of dating scams recorded by the National Fraud Intelligence Bureau between December 2021 and 2022, with reported losses of £97.1m across the year[3]. Perhaps surprisingly, more victims of these scams were found to be male (46%) than female (44%). Those aged 20 to 29 accounted for the highest group of dating fraud victims, followed by 50 to 59-year-olds.
Dating scams can take multiple forms. One is romance fraud, where scammers seek to build a relationship with the victim and gain their trust before trying to obtain money from them. Another is 'sextortion', where the victim is threatened with having explicit personal content shared in exchange for money or doing something against their will.
How to keep safe while dating online
We asked an expert for her advice on how to stay safe while dating online and the warning signs of romance scams.
Online dating coach, Kate Taylor, advises on the steps to take while getting to know someone online: "Keep all your messaging on the online-dating app or website until you've met face to face. Scammers will try to lure you away from the dating platform (saying their membership is expiring), but don't. Keep messaging on the site, so if you start to feel suspicious you can report your concerns straight away.
Check a person is using their real photos by doing a reverse-image search using Google or TinEye. Most scammers hide behind photos stolen from other people's social media accounts.
Never, ever give money to anyone online, especially if you've never met them in person. They'll tell you heart-breaking stories about ill relatives, travel plans going wrong, business deals collapsing… Don't feel guilty, and don't allow yourself to feel pressured.
On how to spot red flags, Kate says:
Dating scammers come on very strong. One minute you're strangers, the next minute they're in love. Yes, you are adorable, but real feelings take time to grow. Be cynical (not just flattered) if someone declares love within days of contacting you.
They have a billion reasons why they can't meet you in person, or they make plans to meet you but always cancel. They might also evade video calls. Be suspicious of anyone who seems happy to live out a love affair online. Genuine daters WANT to meet you in real life. Scammers don't.
If you've been a victim of romance fraud or sextortion, Kate suggests talking to your bank right away, as many will refund lost money. She says: "Don't let embarrassment stop you. Scammers are very persuasive, and you are not the only person to be taken in. You can also report the crime to your local police station, and talk to Action Fraud on 0300 123 2040."
Staying safe online with cyber security
There are several steps you can take to keep yourself secure online:
Protect online accounts with strong, separate passwords
Keep up-to-date with the latest software and app security updates
Stay alert to suspicious emails or websites, and do not click on any links you don't think are genuine
Look for the padlock symbol next to the website address that shows your connection is secure
Only provide necessary information when shopping online, and consider using a credit card as they can offer more purchase protection
Search online to find the latest scams to watch out for
Do broadband providers offer security software?
Almost two-thirds (65%) of our survey respondents felt that their broadband provider could be doing more to protect them online[2]. So, we spoke to TechRadar about which suppliers provide security software within their deals. While many do offer virus protection and other cyber security features, it won't necessarily come as standard in all packages.
TechRadar found that providers such as BT, Plusnet, TalkTalk and Sky all include some security features in their broadband products, while other suppliers such as Virgin Media, EE and Vodafone had optional packages for customers. However, experts suggest doing your own research before you buy and ensuring you have the right protection for you.
Desire Athow, managing editor at TechRadar Pro, says:
More and more broadband providers include some sort of security feature in their broadband packages and while this is commendable, it is important to remember that what they actually shield you from varies enormously.
"For peace of mind, we'd recommend you get separate security software protection altogether for as many individual devices as possible. This is particularly important for seamless coverage outside of your office or home."
About this data
[1] Statistics relating to the percentage of cyber fraud offences were taken from the ONS annual data on the nature of fraud and computer misuse offences from the years ending March 2018, 2019 and 2022.
[2] In order to collect the data used in this report, we conducted a survey of 2,000 UK residents via YouGov. The survey was run on 19 December 2022 and all responses were selected at random. A sample from the YouGov panel in Great Britain is used, balanced on age, gender, social grade, education and region. The results have been weighted to be representative of the population of Great Britain. All statistics featured on this page are sourced via this survey unless otherwise stated.
[3] Statistics relating to reported dating scams and associated losses were taken from a dashboard recorded by the National Fraud Intelligence Bureau based on a rolling 12 months of data from Action Fraud. The data is extracted monthly and previously published data is not updated. Only fraud and cyber crime offences amounting to a crime under the Office Crime Recording rules are included. The data was filtered by cyber crime code NFIB1D - Dating Scam, accessed on Wednesday 18 January 2023.