Choosing the right broadband provider is only half the battle - the right broadband hardware will equip you with the means to get online.
Key points
Broadband hardware is the equipment you need to access the internet
A router means that more than one person can be online simultaneously
Devices like tablets are wi-fi enabled and don't need any extra hardware in areas with available wi-fi
The importance of broadband hardware is often overlooked when searching for the right deal, but it's important to make sure that you've got the right equipment for your needs, so you can make the most of your broadband connection.
Hardware refers to the objects needed to get your broadband working - modems and routers, mostly. Faulty or out-of-date broadband hardware can affect the speed and quality of your connection, and may stop you getting online at all.
Broadband hardware doesn't need to be fancy or expensive - in fact, your provider may supply it free of charge when you take out a broadband contract.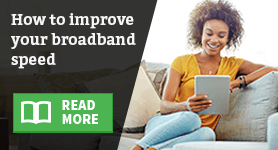 Phone line
First of all consider your phone line - check if your line is capable of delivering ADSL services. This will allow you to receive high speed internet through your phone line.
Fibre optic broadband is available throughout the majority of the UK; to check whether you can get it in your area, enter Gocompare.com's quote process and input your postcode.
Router
A broadband router is used to connect two or more networks together - allowing more than one person to connect to the internet at any one time. Most routers are used wirelessly.
There are lots of things to think about before buying a wireless router. Consider how easily a router will be to set up, whether it has an ADSL modem built-in and what distances it can cope with.
You can also buy signal boosters to extend your wireless range
Most broadband providers will give you a router when you sign up, but you may need to replace a router if yours isn't giving you what you need or you want to upgrade to a new one.
Give your provider a ring to check whether you're entitled to a free upgrade - providers are sometimes willing to offer new hardware as an incentive to stay with them.
Check that your chosen device is compatible and will work with your internet service provider's (ISP) connection. For example, some providers use ADSL2 broadband technology, which means you will need an ADSL2 compatible modem or router.
You can also buy signal boosters to extend your wireless range. If you live in a large house your broadband signal may not reach certain rooms, and signal strength is key to getting the most out of your service. Alternatively, you can use directional antennas to provide coverage to a specific area.
Mobile broadband
Most mobile devices, including smartphones and tablets are wi-fi enabled, so as long as you're in a wi-fi enabled area, you can access the internet.
If not, you can purchase mobile broadband in the form of a dongle or SIM for your tablet.
Before you invest in any broadband hardware, compare providers to find the best deal for you - consider broadband usage and speed, cost, bundles and whether hardware comes as part of the contract.
A cheaper deal may catch you out by charging for equipment and installation, so read the terms and conditions before you sign up.
Remember, a cheap deal isn't necessarily the right choice, so it's important to weigh up your options.
By Emily Bater
[SeanSocialShare]