You need to consider more than just the cost when you choose a broadband supplier - here's what else you should think about.
Key points
Comparing broadband deals will find your cheapest option, but make sure that's definitely the right one to you
Check that your chosen deal has adequate speed and download limits, particularly if you watch videos or play games online
Consider whether a bundle is right for you, but don't let it limit your choices
When you sign up for a new broadband deal it can be quite the commitment, with contracts running for up to two years.
Now imagine you're locked into a contract for the next 18 months, only to find the deal isn't quite as sweet as you first thought.
Maybe you regret not including TV in a bundle, or speeds turn out to be too sluggish for streaming video or gaming and you wish you'd chosen fibre optic broadband.
You have certain rights to cancel, but it can cost you dear, so it's a better to get things right from the outset - here's how to choose the right broadband supplier for you.
Choosing the cheapest broadband supplier
For many, simply plumping for the cheapest broadband provider will be the right thing to do.
If you only need a basic speed connection and your home is close to a telephone exchange, it makes sense to simply compare broadband deals in your area and go for the most cost-effective one.
But ask yourself a few questions first: are you planning to move before the contract's up? Do you need a faster connection? Are you in a rural area where standard ADSL broadband will be too slow to work properly?
Answering yes to any of these, could make you rue the day you took out your broadband contract, with months of suffering slow speeds or having to stump up a cancellation charge.
Buy cheap, buy twice they say. It's not always the case that the cheapest deal will be wrong for you, but weigh up your needs carefully before signing away your connection for the next 18 months or so.
How to compare broadband prices
When you search for broadband deals with Gocompare.com, you can choose to sort by price based on first year cost, average monthly cost or total contract cost.
Choosing 'average monthly cost' will give you the overall best value deal if you're only looking at cost and you don't need to switch again soon.
'Total contract cost' is useful if you have you eye on a certain deal length - a year, say - while first year cost will push deals with higher set-up costs at the start down the rankings.
Choose a broadband provider that's fast enough
While price is a good place to start, it's not the be-all and end-all of choosing a broadband provider.
Plenty of us go far beyond basic surfing and have a need for speeds that'll support movie nights, gaming, catch-up TV and an appropriate quantity of YouTube cat videos.
Using a broadband speed checker will let you know roughly what sort of velocity you can expect, then you'll be able to decide if ADSL is adequate or if fibre fits the bill.
If you're unlucky enough to be too far from civilisation to receive a decent hard-wired connection, you might need to consider satellite broadband to get the speeds you need.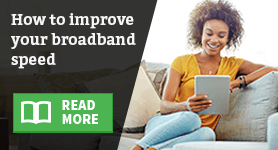 Remember, contracts can seem long and lonely when you're locked in with an inadequate connection, so get this bit right from the outset.
Choose the correct contract length
Since May, 2011, broadband providers have been banned from tying customers in to contracts longer than 24 months by the European Commission,† but two years is still a significant contract length.
If you're an itchy-footed type, a two-year contract might not be right for you as it could mean paying cancellation fees if your circumstances change.
While most contracts are 12 or 18 months, there are one-month contracts available in some areas that are particularly suitable for commitment-phobes or perhaps students wanting broadband in shared houses.
When you use our comparison service, you can filter your results according to your desired contract length.
Know your limits
Broadband contracts with no download limit are becoming increasingly common, but you may still find the cheapest deals limit your gigabytes.
If you choose one of these unlimited broadband deals, make sure you won't go over the limit or it could work out more expensive. If you ever use your connection for watching TV, you could find yourself consuming your allowance surprisingly quickly.
Your area
The broadband available to you will be defined by some extent to the area in which you live.
Different broadband providers serve different areas, so, for example, you might not be able to get cable broadband services like Virgin Media if you're in the countryside.
Other providers, such as Plusnet, will have areas of the country that they can supply to more cheaply than others, so you might find better deals with different providers in different areas.
Consider bundle deals
If you're a multimedia consumer, you might want to find a convenient package that includes your broadband, TV and home phone all from the same provider.
Bundle deals can work out to be good value for some, but make sure it really is the best option for you before basing your choice of provider on one of these offerings.
Consider whether you actually use your home phone much and if you really need all those extra channels - you might find a stand-alone broadband deal is better for you after all and will give you more choice of providers.
By Derri Dunn
[SeanSocialShare]