Want to ditch the home phone? Compare broadband without a landline
Key points
A landline is included as part of a broadband package as it's the method of delivery
BT Openreach owns the majority of the UK's broadband network, and consumers pay a fee to keep the network up and running regardless of which supplier they're with
Landline free deals are available, but may not be any cheaper
Can you remember the last time you used a landline?
Home phones were once the centre of the home and the cause of plenty of family arguments, but today most of us stay connected through our smartphones.
A lot of us don't even use them for phone calls anymore, preferring WhatsApp, Facebook, and even Snapchat to communicate with family and friends.
Even though we don't use home phones so much, many of us still pay for landlines as part of our broadband packages.
But why?
Broadband providers charge for the landline part of the service as most providers use the phone line to deliver broadband to your home.
Landline cost is included in the overall monthly amount payable for broadband, which means it's usually not possible to separate out the phone line even if you don't use it.
It's possible to get broadband without a landline, but you'll have to shop around first.
Is broadband without a landline cheaper?
The reason that landline fees are payable is due to BT Openreach's ownership of the copper wire telephone network which delivers broadband to the UK's homes.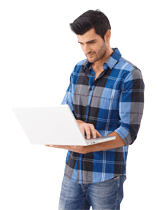 This delivery requires an active phone line, which means line rental is included in the broadband package.
Virgin Media is the only major UK provider to offer broadband without a phone line, as it has its own fibre network which is separate from BT's.
Virgin Media may be the major provider of landline-free broadband, but it's lack of landline doesn't necessarily mean it's the cheapest or the right provider for your needs.
In fact, Virgin packages might be more expensive with or without a landline - so think carefully before choosing a deal.
'Broadband-only deals'
Some providers claim to offer 'broadband-only' deals which sometimes turn out to be nothing of the sort.
For example, broadband-only providers say you don't need to pay for a landline, but it's really that you don't need to pay them for a landline - you just have to pay someone else, such as BT Openreach, instead.
Mobile broadband
Did you know...?
In 2017, BT and Openreach were told to separate by the Competitions Markets Authority (CMA). This may have an impact on the way our broadband infrastructure is managed and paid for, but it's unclear yet how much of an impact the move will have on the cost of consumer bills.
Mobile broadband is the most popular form of broadband without a fixed landline, and one of the best options if you're looking for something flexible.
It uses a USB dongle, a data-only SIM deal or a wifi hotspot. These allow you to connect wirelessly via 4G and gives you all the capabilities of a wired internet connection, but with no wires.
Mobile broadband can be tempting if you want to avoid a landline, but you're relying on signal wherever you live or are travelling to. Coverage has improved across the UK in recent years, but can still be patchy in many places.
Using it at home in order to avoid landline charges may seem like the best solution, but depending on your internet usage it may be a no-go.
If you're addicted to Netflix, play games online or need to work from home then mobile broadband may be insufficient for your needs.
According to research by GoCompare, most of us now class ourselves as medium or heavy broadband users, with 34% using the internet to watch films via streaming services such as Netflix. Just 22% said they only use their broadband connection to browse the internet, read their emails and access social media.[2]
If you exceed download limits - which can be easily done - then you might end up paying over the odds for extra data, removing the money-saving benefit of choosing mobile broadband over wired broadband.
To decide whether mobile broadband is right for you, think about your internet usage needs beforehand.
Satellite broadband
Another option if you want to avoid paying for a landline is satellite broadband, which requires installing a satellite dish at your home. Satellite broadband is particularly useful if you live in a rural or remote area where you can't get fibre optic or ADSL broadband.
However, satellite isn't the most cost-effective option if you live in an area where fibre optic broadband is widely available. While some satellite packages can cost around the same as fibre optic or ADSL packages, satellite broadband usually comes with download limits that aren't imposed on other packages.
Satellite broadband also suffers from lag, also known as latency, due to the time it takes for the signal to get to and from the satellite.
Switching broadband provider
A costly and unnecessary landline may be one of the biggest incentives to shop around for a new broadband provider, but it can also be one of the biggest barriers.
According to GoCompare research from March 2017, bundled services - where broadband is combined with TV or a landline - is the main barrier to switching with 45% saying they didn't bother because their account was tied with something else.[2]
Only 17% of those surveyed had switched supplier in the previous 12 months, and a third had never switched at all.
GoCompare's Tom Lewis said: "Bundling is stopping people shopping around for a better deal. Broadband providers know that bundled services are harder to switch away from and as a result, more profitable. 
"But, if you've not reviewed your broadband recently you may find that you're paying more than you need to, possibly for a slower service. The broadband market is competitive, so if you've not done so recently, it's worth taking the time to review your arrangements."
By Emily Bater
[SeanSocialShare]