You can get a satellite broadband signal pretty much anywhere. Find out whether it's right for you, including the cost and its limitations.
Key points
Satellite broadband is an option for fast internet in rural locations
It can be quite expensive, both for monthly charges and installation, although subsidies are available for some
Make sure you're comfortable with the disadvantages and consider the alternative options before committing to an expensive contract
The evolution of broadband infrastructure in the UK has traditionally involved upgrading the cables that bring it to our homes.
In February 2013, the government set a target of providing superfast broadband coverage to 90% of the UK by early 2016, and 95% by December 2017.†
In a parliamentary debate in March 2016,† the minister of state for the digital economy confirmed that the first of those targets had been met and the 95% roll out was well under way.
But what of the 'final 5%', as they've become known?
This unconnected minority was estimated at 1.5 million in August 2016, geographically dispersed across the UK, and it's expected that satellite broadband may provide a large part of the solution.
Who needs satellite broadband?
Satellite broadband can be provided in any area - as long as there's a clear view of the sky - but it's particularly useful for the minority of people in the UK who can't get a decent fibre optic or ADSL connection.
If you live a long way from both a telephone exchange and a green roadside cabinet, it might be the only feasible option for getting online where you live.
Where alternatives like fibre optic or ADSL are available it's unlikely to be the most cost-effective or practical solution, due to the installation costs.
How to get satellite broadband
To get satellite broadband you'll need to have a provider install a satellite dish at your home, rather like you would for satellite television.
You'll also need a modem installed inside your house, with wires connecting it to the satellite dish, and usually a wireless router as well.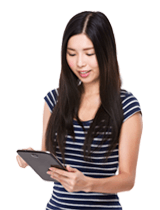 Installation should only take a few hours and should be no more disruptive than a satellite TV installation.
The cost of satellite broadband
Satellite broadband speeds have improved in recent years due to the launch of new 'ka-band' satellites, but the cost of this sort of connection is still an obstacle.
Although prices of some packages can be comparable to ADSL or fibre broadband packages, you're not really getting like for like because satellite broadband usually carries download limits, which on cheaper packages could be as low as 2Gb a month.
Unlimited satellite packages are available, but they can be extremely costly.
In addition to the monthly cost, there's also usually an installation cost which can be in the region of £300-600.
Help with satellite broadband installation costs
In December 2015 the government rolled out the Better Broadband Subsidy Scheme to offer subsidised satellite broadband installation to homes and businesses that cannot get an affordable broadband service of at least 2Mbps.
Did you know...?
There's often a high installation cost associated with satellite broadband - don't forget to factor that in when you compare contracts
The scheme defines 'affordable' as a total cost of no more than £400 for basic broadband over 12 months.
The scheme is expected to run until December 2017 and you can find out if you're eligible by using the Department for Culture, Media and Sport's online tool.†
Subsidies are administered by local authorities and eligible applicants are given a code to use with a number of providers, which gives them £350 off installation and other costs.
Disadvantages of satellite broadband
In addition to the cost, there are a few other disadvantages to satellite broadband.
Download and upload limits
Although unlimited broadband has become increasingly available and affordable for wired internet, satellite broadband usually has a data limit.
This means you'll have to think carefully about just how much you'll need to download and upload each month before committing to a contract.
Some contracts might have an unlimited off peak period, so you could make the most of this by using this time for large downloads, subject to any fair usage clauses.
Latency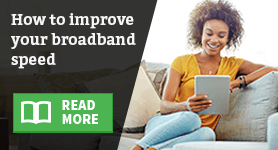 A common complaint against satellite broadband is the lag it can suffer from, known as latency, due to the time it takes the signal to get to and from the satellite.
This might not affect general surfing too noticeably, but it can cause real problems for gamers who play in real time as they could find it makes games unplayable.
Discounts and deals
As well as satellite broadband being a fairly expensive option compared to ADSL or fibre, you usually also won't be able to take advantage of any deals or offers like broadband bundles.
Bundles let you buy broadband, phone and TV together, usually for a discount, but as satellite broadband doesn't even need a phone line, it's unlikely to be offered as part of a discounted package.
Alternatives to satellite broadband
Due to the disadvantages of satellite broadband, it's worth considering your other options for getting connected before committing to a contract.
Mobile broadband
The UK's 3G and 4G mobile broadband coverage has improved dramatically, so it's worth checking whether this might be a cheaper and faster way to get internet in your area.
Like satellite broadband, it needs no 'grid' connection and has the added advantage that you'll be able to take it with you wherever you go.
Community broadband
Some remote communities in Britain have benefitted from superfast internet thanks to community broadband projects.
With community broadband, fibre optic cables are often laid directly to each property, meaning you can get the fastest possible speeds.
You can find out more about funding and projects in your area by checking with BT.†
Public wi-fi
If you're an infrequent surfer, you might find that using public wi-fi hotspots in your local library, cafes and public spaces will be adequate.
Just make sure you think about internet security and don't take risks with your financial details.
By Derri Dunn
[SeanSocialShare]