The main factors to consider when comparing and switching broadband provider, plus details of 'one touch' that makes the process even easier.
Key points
Compare broadband deals before you switch providers and take into account speed, download caps and charges
Weigh up the pros and cons of the price versus the customer service you can expect
The one touch switching process makes it easier and faster to change your broadband supplier
The process of comparing broadband or broadband bundles and switching to your chosen provider should be as straightforward as possible.
But there are a few things you need to keep in mind to make sure you get the best deal for your home and family.
Compare broadband
If you're thinking about switching broadband provider, comparing is the quickest way to find an alternative deal.
Comparison services allow you to look at:
All broadband packages
Broadband-only packages
Broadband bundles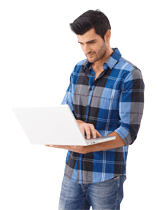 You'll be required to enter your postcode as broadband availability will depend on where you live. When you get your results, pay particular attention to the following product details.
Speed
Getting a service with broadband speed that's fast enough for your requirements without paying for more than you need is perhaps the crucial decision.
Remember that the advertised speed is the maximum you could get - in reality it may be considerably slower.
Download cap
Look out for download caps on your package - if you exceed yours, the broadband provider may request that you either reduce your usage or upgrade to a more suitable, but more expensive, package.
You may also be charged for usage in excess of the cap or, in extreme cases, your service may be suspended if you consistently exceed your limit.
Contract length
Choose carefully, as many providers will charge you for cancelling within the contract term, and even for moving house.
You may also want to check for hidden costs as some offering shorter contracts (less than 12 months) will charge you an exit fee if you cancel.
In January 2014, regulator Ofcom† announced that consumers can't be charged a fee when leaving a provider if that provider raises prices unexpectedly.
If they do decide to up their prices they'll now have to give customers 30 days notice, and if customers then decide to switch they can't be charged a penalty.
Connection fee
Some broadband providers may charge a connection fee when you take out a contract with them.
Others may charge an exit fee if you cancel within a set time period.
In January 2014, regulator Ofcom announced that consumers cannot be charged a fee when leaving a provider if that provider raises prices unexpectedly
Monthly charge
This is the monthly charge you'll pay for your broadband package (if you pay by direct debit).
First-year cost
First-year cost is important because it's the true cost of the package over the first year, taking into account any introductory offers or discounts and any charges - connection fees or hardware costs, for example.
However, it doesn't normally include any line rental charges that you have to pay BT or your internet service provider (ISP) in order to use ADSL broadband.
If you do pay these, remember to factor them into your monthly budget.
Not all broadband comparison sites will provide you with the first-year cost, but this information is crucial if one of your primary motivations for choosing one product over another is price.
The small print
A good broadband comparison site will provide detailed product information so that you can make an informed choice before you buy. It pays to read this carefully.
If the comparison site you use doesn't calculate first-year costs on your behalf then you should be able to find details of any charges in the small print.
Customer service and technical support
If the customer service and the technical support you receive from a broadband provider is important to you, it's well worth reading customer reviews online before you commit to a contract.
Price v service
Remember that the cheapest broadband isn't necessarily the best broadband for you.
It may be worth spending a little more in order to get the broadband provider or package that's right for your needs.
Simplifying broadband switching with 'one touch'
On 20 June, 2015, regulator Ofcom brought in a new 'one touch' switching process for millions of broadband and landline customers.
The changes affect consumers who use the Openreach telecoms network - the old copper line network which includes BT, EE, Sky and TalkTalk - but not cable, fibre optic, fixed wireless and satellite users.
Openreach customers now only need to make one phone call to their chosen new provider, after which the new provider will assume responsibility for the entire switching process.
Many companies already offered this - or strived to offer it - for their new customers, but the new rules should give a consistent guarantee in a similar way to banking's seven-day Current Account Switch Guarantee.
By removing any requirement for the customer to contact their existing phone and/or broadband supplier it's felt that control of the switch will be taken out of the old supplier's hands.
Consumers will receive written confirmation from both their old and new provider and will have the opportunity to cancel the switch if they change their mind.
Providers must keep a record of the customer's consent to switch to protect against 'slamming' - being transferred to a different provider without consent.
Customers have also been warned to check whether they'll be hit by early exit fees if they plan to switch.
"The new process puts the responsibility for the switching process in the hands of the provider the customer is joining," said Sharon White of Ofcom in the regulator's guidance about the changes.†
"This will make a real difference for consumers, and will encourage more people to take advantage of very strong competition in the landline and broadband markets."
By Sean Davies