Spark up your business with British Gas business energy
There are lots of options when it comes to business energy. Could British Gas offer an energy plan that suits your business?
Key points
British Gas offers fixed, variable, deemed and out-of-contract business energy tariffs
Whether you've got a big or small business, or if you want to go green, British Gas might have a tariff to suit you
When it comes to switching suppliers, your new provider will be the one doing most of the legwork
First known as the Gas Light and Coke Company in 1812, British Gas has been around the block a bit.  
In 1972, the Gas Act created the British Gas Corporation, which was later privatised as British Gas plc, before de-merging in 1997 to become part of the Centrica group.  
British Gas offers a range of energy services for your home and business. Let's take a look at some of the services British Gas offer for its business customers, shall we?  
British Gas business energy 
Business energy prices are calculated differently from domestic tariffs. Whereas domestic customers usually pay less VAT, the unit price of electricity for businesses might be cheaper, due to the amount of energy used.  
British Gas bases its business energy rates on your business size and electricity consumption, and you can get a fixed or variable tariff. 
You can also get a range of other services with British Gas, like boiler care, safety training and energy for large businesses. There are some eco-friendly options too.  
Fixed, variable, deemed and out-of-contract rates 
A British Gas fixed tariff means that the unit price of your energy is guaranteed for a set period of time, usually between one and three years.  
Conversely, a variable plan has fluctuating unit prices, but are usually less expensive than a fixed tariff.  
Deemed or out-of-contract rates are what you pay if you have no formal supply agreement with your energy provider. These rates tend to be the most expensive, but you should be able to switch to another plan or provider easily.  
Green and renewable business energy 
Looking to do your bit for the environment? Need to boost your business' corporate social responsibility (CSR)?  
British Gas has a few green energy options, as well as a range of services to help your business make the most of its eco-friendly energy.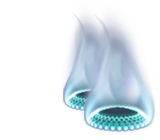 British Gas energy for large businesses 
If your business spends more than £100,000 a year, then British Gas classes that as a large business, and offers different services for corporate businesses. This was correct in March 2018.
Got a micro business? British Gas offers energy plans for petite businesses too.  
Smart meters for business customers 
If you want to wise up your business, you can get a smart meter installed, which will help you monitor how much electricity and/or gas you're using. This is a good way of making sure you only pay for the energy you use.  
Smart meters are free, and they can hopefully save you time and money (that sounds familiar…). You won't have to take meter readings manually and you shouldn't end up paying for energy you don't use.  
How do you switch energy suppliers? 
Most switching processes are similar, whether you choose British Gas or another supplier. 
Once you've compared energy prices, gotten a quote from your new provider, and you're happy to proceed with the switch, your existing supplier will be notified of the switch. You'll then be asked to provide a meter reading.  
The switch will be completed on the date you've decided upon and there shouldn't be any interruption to your energy supply – sorted!  
By Amy Smith